So what does a girly girl do when she's under the weather??? I mostly crave for 2 things : Comfort food and comfort  makeup shopping. anyone share my madness views???
I'd just shut up and show you what I got~
1) Revlon Colorstay pressed powder : My Maybelline powder just hit pan and if you are an oily-combo like me, you'd know how much a compact powder is important to us. On normal days while running errands I just apply a sunscreen, powder and I'm done! I was looking for the new Revlon naked skin powder but my local CVS didn't have it so I got this. hope it works!
2) Revlon Colorstay suede lipstick in FASHIONISTA : I got this one because it is a new launch from Revlon. its a nice red semi matte lipstick but so far I'm not feeling it. maybe with a lipliner or a gloss. will update on this later 🙂
3) Maybelline Color whisper in A Plum Prospect : They are Maybelline's answer to the lip balm/gloss/lipstick hybrids that are cropping up everywhere. And I am loving it so much!!! This is the 1st time I regret not buying more. I will definitely get more of these.
4) Carmex lip balm : I cannot get more of these. I will keep purchasing and repurchasing this 🙂 enough said!!!!
5) Revlon lip liner in 670 Wine : So looking at the trend I guess I'm into reds these days. but this more like the berry toned red. Love it!
6) John Frieda semi permanent styling spray : My hair are completely rebelling against me and NO amount of setting and blow drying can tame them. So I decided to involve 3rd party remedies. let's just hope this works!
I also got a Denim jacket and boot cut jean from Levis. Will do some OOTDs with them soon 🙂 And A couple weeks back our friends came over and got us these yummy Lindt chocos…..  you like?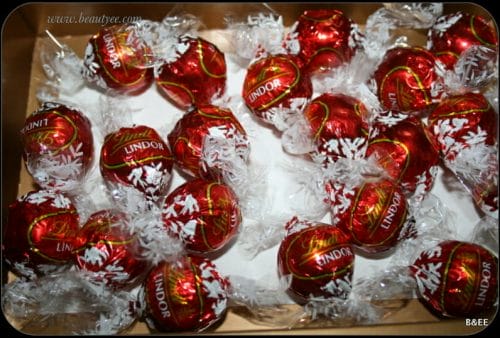 SO did you get anything recently??? what did you like? let me know in the comments below!!