Nothing gives me more pleasure than to open packages. And if the package contains surprise lip glosses, hallelujah!!!  I have this thing with glosses…I visit walgreens just to look at them even though I don't always get them 😉 I really was so happy when these came in a big-a$$ package 🙂
Anastasia says : This long-wearing lip gloss features "Kiss Me Quick" plant extract that helps to increase volume and fullness in lips, Brown Algae , a key ingredient that smoothes, firms, hydrates, and revitalizes the appearance of skin, and Balkan Botanical®Infusion—Anastasia's exclusive antioxidant-rich complex that helps soften, soothe and hydrate skin. Anastasia's Hydrafull Glosses are formulated without parabens, sulfates, synthetic fragrances, synthetic dyes, phthalates, GMOs or triclosan.
Shades I got :
Moi : a nude pink.
Sangria : a berry-pink shimmer.
Barely : a Peachy-beige nude.
Cost : $18 – currently on sale for $10 at Sephora.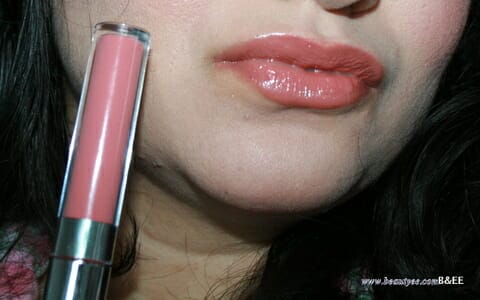 My experience with the glosses : I honestly find glosses much better to deal with than lipsticks. There will always be a neutral pink or peach gloss in my bag which I apply even on a nude face to give it some color. When I tried these on, I was really happy with the color payoff and the intensity. They are partly opaque with great pigmentation. they are not runny at all *cough Revlon cough*. They sit nicely on the lips & you can just apply and forget about them. It does not sit on the lips and gives a nice subtle sheen.  Also, they don't have a distinct flavor or odour which gains brownie points from me. I am not sure about the lip plumping effects but my lips looked really supple and moisturized which is more than enough for me.  I looked through all the shades and mostly they'll suit any skin tone.
The major CON I'd say is the Silicon paddle shaped applicator. It gets the product but doesn't spread it like our normal brushes/doe-foots. So we end up using more & making it goopy on our lips. I apply it with my ring finger & then it's not so goopy anymore 🙂
Verdict : I like them.. And for $10, I'd definitely repurchase. hope they do something about the wand though!
 [kindly ignore my patchy face. I'm having a little peeling face syndrome]
[P.S : Product kindly supplied as Gratis when I covered the brow event for Anastasia HERE and HERE. Opinions strictly personal. kindly see my disclaimer for doubts ]