Hey cuties 🙂  I'm so sorry for this delay but I got a little carried away with  the weekend and the shopping and stuff 😉 😉 hehheeh
Finally announcing the results of the LaVaque giveaway… I received 54 entries in all and  it was grt considering it was my first giveaway. Even though I tried to invite some of my friends and relatives but maybe they think that since I dont work in a software industry anymore, I'm wasting my time with this… well, good for them 😉
Anywho, I received 54 entries and With random.org I generated the winner number:
The resultant number was 44 and the winner is  *drrrumrolllsss*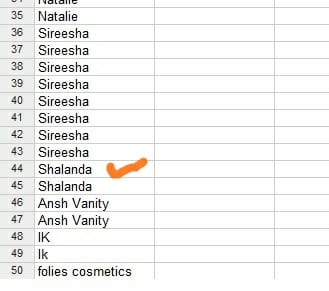 Shalanda "Shasie" from http://www.live-life-in-style.com She is a gorgeous fashionista!!!!  Do check her out!~
Shasie will be receiving a LaVaque tweezer , a crystal Nail file and a special something from me 😉  hope you like it shasie —
Anyway, hope you enjoyed entering my giveaway- I enjoyed it a  lot too!!!!!
Also, I'm announcing one today evening as well and maybe another one in the pipeline 😉  so, see you later gals and keep reading 😉
much love….