Ok… let me start this with a shocker… I had my eyebrows threaded for the 1st time after I got engaged… shocked???  well between my over-strict father and my meddly relatives  It was the most neglected  feature on the face:(
These days brows are a very important factor in grooming and make-up and is proven to frame  a face  better…. I used to literally never -as in – never do anything with my brows and no when I think about the times I feel like such a noob.
I started using eyebrow pencils a year back but was not s o happy with the results… maybe it was the way I applied but we didn't really have much options back then. I remember  for a complete century only Lakme brow pencil ruled the world!
I read about brow kits on blogs and some of my blogger friends raved about it so much.. Actually- I saw the drastic difference in the face and I was really impressed.. Then again- there was the shade search because I have very dark, almost black brows  and most of the brow pencils/powders I saw bordered around brown – i.e brunette hair.
Imagine my happiness when I saw this Ardelle kit with the perfect dark shades – it felt its been made just for me- Ok! for dark haired chicas like me 😉


Ardell says : Ardell Brow Defining Palette: *Create defined – beautiful brows with this all-in-one compact *First shape brows with tweezers then using the slanted brow brush – apply brow powder using short – light strokes *Finish off by using the the sponge tip applicator to apply the highlighter underneath the brow bone for a defined arch.
Packaging: It is a small sturdy plastic casing divided into 2 parts. the left side has 3 shadows: a shimmering champagne shade for highlighting, a dark charcoal shade and a dark brown shade  – both for the brows. the right side has a small mirror , a travel sized tweezer, a small buffing brush and a slanted brush.
Cost: around $7-9.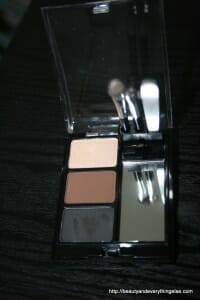 How I groom my eyebrows with it:
If you have seen my earlier piccys, my brows are quite unruly and on the thicker side (yayyyy I'm in fashion…) so mending them is a bit of a task. ok, let me show what they look like: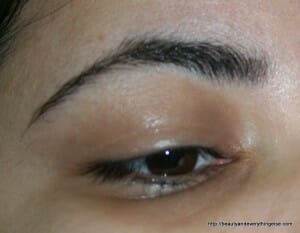 1) I apply the highlighting powder outining the brows using the buff brush: like so :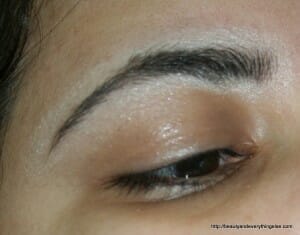 2) The I take the charcoal shade with the slanted brush and with light feathering strokes apply it on the brows in the direction of the hair.
3) Take a spoolie brush and brush the eyebrow hair.
TIP: If you're going to a party or event, you can spray the spoolie with a hairspray to keep them tamed for a long time.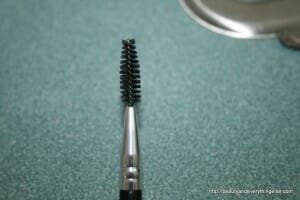 4) Now, blend the highlight shade into the skin so there are no obvious lines.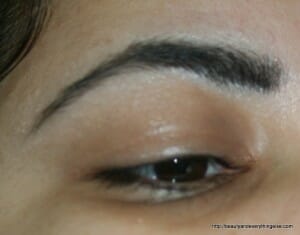 Since I started doing this , I can say that my face looks better framed and now while going out , even if I don't apply any make-up, I groom my brows. I feel this makes me look more put-together.
About KKcentrehk : this is a Hong kong based website which  holds a huge variety of goodies… like eye lashes of various shapes and types, nail designs, various  types of wigs, palettes, nail patches, make-up from various brands, lenses.. and did I say eye-lashes??? OMG you just HAVE to check them out 😀  Also, my order reached within a week!!!  and they ship worldwide 🙂
and great news: KKCentreHK is giving my readers  a cute discount 🙂  just follow this link  and place your orders….  I'm damn sure you would end up buying those sexy lashes 🙂
[P.S Product sent for consideration by KKcentrehk but the review is based on my own experience. Kindly read my disclaimer for any doubts.]