Its fall!! yayyyy . My most fav season of the year!  When the boots come out and everyone looks mysterious wearing long jackets and scarves. Also, the deep dark smokey eyes make an entrance and we see lots of plum colors making rounds. and before I go babbling away like I always do,  Let me focus on  one of the bad aspects of fal…. Cracked hands and cuticles…  *makes a wry face*
We women are more prone to damaging our hands because we do all kinds of work. Cleaning, cooking, mopping and the list goes on and on! Not to mention the harsh detergents. Also a lot of office crap. IMO, a hand cream should be rendered a status  as important as the sunscreen *yessir*
Aveeno says: AVEENO® POSITIVELY AGELESS® Skin Strengthening Hand Cream has been clinically shown to moisturize for 24 hours. Formulated with Natural Shiitake Complex, it works to help fortify the skin's natural barrier, leaving it feeling stronger and more resilient. With regular use, the skin's moisture barrier can be improved, leaving skin healthier and younger-looking.
Where to purchase: drugstores, mass merchandisers or online at aveeno.com
Price: $5.99 for 2.7 oz/ 76 g
My experience with the product:  The last 2 months I was travelling. I went to my home in India and even there I was travelling all over and working my a$$ off! I admit here that nothing but this cream has been my saviour. I cannot thank this baby enough. It helped my hands through so much. Heat, detergents, burns (I know!! long story though ;))
I love the fact that the active naturals range has great ingredients. As you can see in the swatches, the cream consistency is quite thick without being overly greasy and absorbs in your skin like a dream. Or maybe my skin was really drinking it.. LOL
Packaging wise- Its a small tube with a clicky lid. but it does not easily flip open so good for travel.  Lasts quite a lot and really hygienic.
I finished one last month. I have one in my purse and one on my bedside table 🙂
I'll definitely repurchase! and recommend to try out 🙂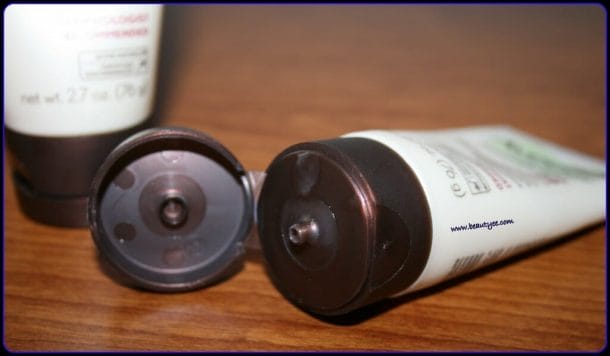 P.S. : I purchased 2 and co-incidentally received one from the PR to review.  I am not affiliated with any company nor getting paid to advertise any products. This post is written with my honest opinion.