Hey my chicas how's the week going???
Some of you might have noticed how I  keep screaming ranting about not going out some place fun.. well, tonight finally we got out to go someplace and by the time we were done with the dinner and ready to frolic, it started pouring…. grrrrrrrrrrrrrrr
Anywho, winters are coming and my skin has already started feeling stretchy stretchy  SO I'm looking out for a good night cream which can also help in some anti-aging thingy… and when a potion like this comes across- one cant really say no right?
:  Aristocrats from Asian countries have used finely crushed pearls as an anti-aging secret for thousands of years. With trace elements of amino acids and proteins that are indispensible to the human body, the pearl-like capsules promote an overall healthier complexion. The Ballet Pearl Cream from Solstice Medicine Company uses precious Tai Lake pearl powder combined with the highest quality moisturizers and natural essences. With each use, the skin's epidermal cells absorb the cream, leaving you with a delicate and satiny smooth appearance. Dark sunspots are removed, pores are reduced, and wrinkles are diminished. Ballet Brand Pearl Cream will leave your skin with a natural, healthy glow.
SKU: MS9 
BRAND: Ballet Brand
Unit: 1.13 oz. (32 g) per bottle
Price: $8.99/pc

PRODUCT DETAILS: 

BALLET CREAM, An absolute must for women. Pearl cream makes your skin feel more younger looking. It contains in pearl like capsules, many kinds of amino acids, trace elements, and proteins which are indispensable to the human body and can be absorbed through your skin's epidermal cells.
Ballet Brand Pearl Cream is made from precious Tai Lake pearl powder and other specially selected high quality materials and then mixed with natural essence. Frequent applicaiton leaves your skin delicate and satiny smooth. Pearl cream prevents your skin from getting coarse and aged, it also removes dark spots and diminishes wrinkles while keeping your skin lubricious and snowy white with a healthy glow.
DIRECTIONS
Wash your face in warm water, then apply this cream lightly on your face with a gentle massage. Twice a day. Bedtime application specially recommended to enable full absorption.
INGREDIENTS
Stearic Acid, Cetanol Lanolin, Glyceryl Monostearate, Isopropyl Myristate, Sulfur, Perfume, Ion Exchange Water, Glycerine, Potassium Hydroxide and Pearl Powder.
My Experience with Ballet Pearl cream:
As I have a sensitive oily skin, I was a bit skeptical in using the rich cream on my face, so I began by applying it on my hands after washing the dishes. I massaged them lightly and it kinda absorbed in a while. I was watching TV that time so didn't give it much thought but the next morning when I woke up my skin wasn't peeling (I was having a detergent reaction so my skin peels a bit).  the next morning after my bath I applied it generously on my face and continued with the chores- after a while I had to blot it because it got a tad greasy.  but when I applied it at night on a wet face it soaked up well. after waking up the next morning my skin felt soft and supple but a bit greasy..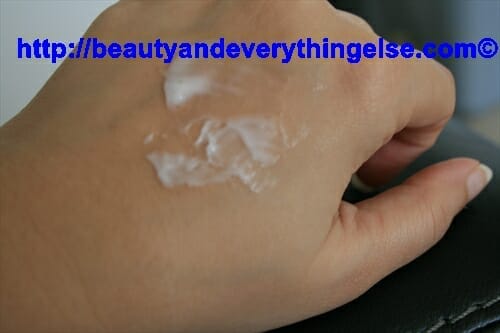 let me sum it up as:
– Very moisturizing.
– Did not break me out.
– makes oily skinnned  skin a tad greasy.
– Has an odour which reminds me of something my mom used to use when I was very small (they called it the "snow cream" )
– Will be great for people with dry skin.
– Absorbs very well- does not leave an oily film.
– I am not so clear about the anti-aging properties yet but It might help in smoothening of lines as it is very rich. (IMO)
Will I recommend? Yes! specially in winters and Specially for the dry skin 🙂
[Disclosure: The products in this article were provided by PR for consideration. All opinions are my own. For more information please refer to my Disclosure Policy]