Heyyy everyone!!! how's the week going on? My diet and exercise were on a toss last week but from yesterday Ive got it back on track (with a little exception ;)).  This week my hubby's friend had come to visit us so we roamed a lot on foot checking out various gardens and small but nice coffee shops and stuff.  I've made a mental note that I should try out the local food and gourmet stuff- specially their gourmet coffee. whether its India or anywhere in the world  we should try and taste all the local exotic stuff 🙂 Pizza-burger is lying in every corner right????
So, while I was loitering around a bay-side mall I happened to pass a Bath & Body works outlet. And I remembered that Ive to get a small bottle or tube of hand lotion for hubby dear coz  his hands were getting dry and peeling off. and I wanted him to carry something with him all the time. So I went and asked the SA to show me something which has less or zero fragrance.  Also- THERE IS AN OFFER GOING ON – 3 MINIS FOR $10.  yaayyyyy!!!
I picked up 3 minis :
1) Moonlight Path body lotion: The site says: Our exclusive Signature Body Lotion formula, fortified with powerful ingredients like super conditioning Shea Butter, fast absorbing Jojoba Oil and protective Vitamin E, hydrates skin with moisture that lasts all day. Our non-greasy formula absorbs quickly and completely to leave skin feeling incredibly soft, smooth and nourished, making it the perfect daily moisturizer.
Our exclusive Moonlight Path fragrance is an opulent floral bouquet that captures the essence of moonlit strolls in lush garden
Key fragrance notes: French Lavender, Lily of the Valley, Oakmoss, Musk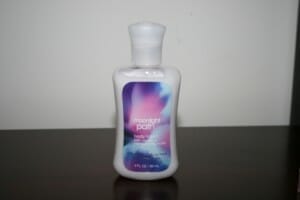 The Ingredients: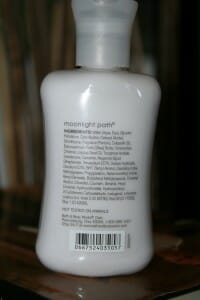 My Experience: A very light fragrant lotion which is thick enough to cover the dryness but also light enough not to break out the skin or appear like a shiny layer on top of you skin. Its kinda musky but very alluring. My favourite as of now 🙂 Its a very sultry floral musk which is great for dates and nights out! WARNING: If you are not a musk person this may not be for you!
2) Secret Wonderland body mist: Master perfumers have blended luscious strawberry and frosted jasmine petals with magical notes of white amber and creamy sandalwood to create this whimsical fragrance inspired by a world you never dreamed existed.
Top Notes: Luscious Strawberry, Wild Goji Berries, Ripe Raspberry
Mid Notes: Gardenia Petals, Jasmine, Peach Nectar
Base Notes: Coconut Musk, Creamy Vanilla, Sandalwood, White Amber
As you can see- in 2 days Ive finished it so much. hehehe. I am totally liking this mist. Gives a very fresh feeling within.  Specially if you spritz after a shower or a work-out… ahhhhh-BLISS!!! I wish I could pass the fragrance like the pics Ive posted. lets see- maybe science will catch up. But I do recommend this to everyone. totally thumbs up on that one 😀
3) Sea Island Cotton: This body lotion  is lying in my hubby's office drawer but it has negligible scent and is great but I havent used it so cant really say anything.
Hope you like my Little B&BW haul. My next buy is going to be the Japanese Cherry blossom range 🙂 Till then – Adios and have a great week ahead!!!
Love,
Bee