2013 is already a week old and I'm still making mistakes writing 2013. hehehe. really, tell me, its happening to you too -right????
I have a very old relationship (albeit illicit) with dark circles. Most of it is to be blamed on late night movies and reading tons and tons of books. Very few classics though!!!
I often use a concealer while going out to make them look tolerable but I always thought I needed something more. well, an 8hr sleep with a  quiet mind is out of the question for lots but I do try and remedi-fy them sometimes!
I got the World famous Bobbi Brown gel liner few days back but my oily lids made sure it doesnt work on me. And while returning it, the kind MUA suggested I try this. And I'm glad I did.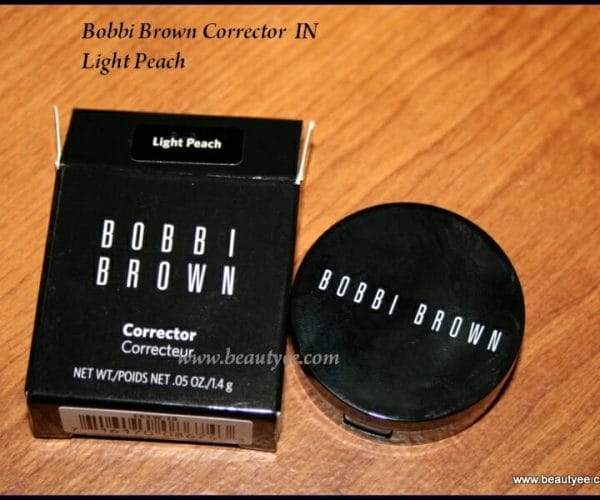 BOBBI BROWN Corrector ($23 + tax) : A wakeup call for tired eyes. Corrector is pink- or peach-based to neutralize under-eye darkness and is designed to be used before Creamy Concealer. New and improved formula is long-wearing and brightens dark circles with quick, just-right coverage that's easy to blend and won't crease. And since great makeup starts with healthy skin, Corrector is infused with skin conditioners to protect the delicate under-eye area.
Available in 12 shades.
Packaging wise: it is a teeny tiny black round box with Bobbi Brown written on it. It also has a teensy mirror on the inside. Very light weight so great for travelling or stashing in your handbag.
My Experience with the product : Honestly, other than the ditzy makeup looks I do for the blog or parties, I'm usually clean faced. In the  entire 2012, I have purchased one foundation MAC and have used it only a few times. But a concealer is something I really need because my under-eyes look hideous. For sure!!  I have used this for about 2 weeks now and I must say I really like this guy. This is really creamy and you need a very little amount to dab under the eyes.
you need to dab a little from the inner corner of the eye to almost the end. Like shown below. I mostly use my ring finger but even brushes are great. I then dab-dab-dab to make it sink. I sometimes apply a wee bit of concealer on top but for this review I just used this corrector. Initially I found that I was going overboard with it maybe because it really matches my skin tone, that was making it look ashy but after a couple of times, I kinda got it right. it blends very easily so is not a hassle to work with. Although I found it to be a bit sticky, so I'd suggest you work with one eye at a time.
Other than being a bit expensive, I have no complaints about this product. I see myself using it often. 😀
TIP: moisturize your skin and under eyes well in advance and this product will work like a dream. A dry skin invites cakey application.
P.s : the pictures are not retouched and I've not even applied powder to show the real effects. I am NW20 in MAC