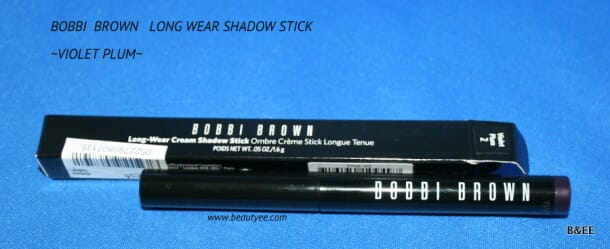 Bobbi Brown- the empress of makeup!!! I'm so happy that she recently launched in India. yeahhhh!!!!  So now I can pester mom to get some!
I used the iconic gel liner & the under eye corrector (reviewed HERE.) And even though Bobbi is wayyyyy to expensive for me, I keep going back to swatch & look out for her new launches. I would've bought the shimmer brick long back if it hadn't been so shimmery!….. please give me less shimmery bricks- pretty please!!!          well, less rant more substance :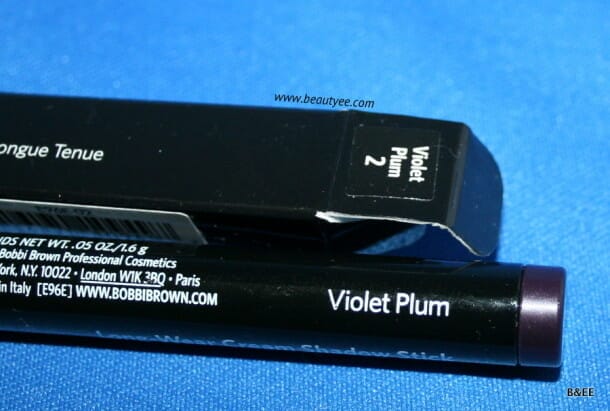 Bobbi says : Effortless and high impact – that's the essence of Bobbi Brown's Long-Wear Cream Shadow Stick. The do-it-all formula glides on tug-free and can be used to shade, define, smoke up and highlight eyes. In subtle to eye-popping shades that last for up to eight hours without creasing, flaking or fading, it's a stroke of genius. Just swipe on and go.  
Cost : $28 + tax
Available in 8 shades
Shade I have : Violet Plum which is a deep shimmer eggplant shade.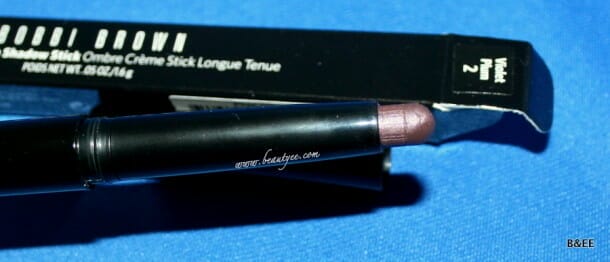 My experience with the shadow stick : This is a recent launch from Bobbi & I first saw it in a magazine with Katie holmes modelling this – INSTANT LOVE! She had on a smoky eye using these sticks & it looked phenomenal. Although the shades looked darker on their site, I found them lighter when I swatched on my hand.  but they felt absolutely creamy & buttery on my arm. I got the darker Violet plum shade- since I'm in a very plummish phase these days 🙂
I have been applying this since last 3-4 days and though I didn't expect it to perform so well, it surprised me a lot!
I have super oily lids & every liner I apply forms a crescent shaped smudge on my lids. and only a few primers work on me. I tried this with and without primer in 80 degree heat and it really stays put.  As a base to a similar shadow it will stay longer- maybe even more.  The texture is really creamy & great to work with. Absolutely no tugging of the eye. I didn't have to hold eye lid taut (unlike some pencils). The formula is a tad sheer but very buildable. also, it's not waxy – so I guess they did not use any fillers. It's just the product!  I loved it when I applied it on the crease and outer-V. it stayed for a long time & looked fab!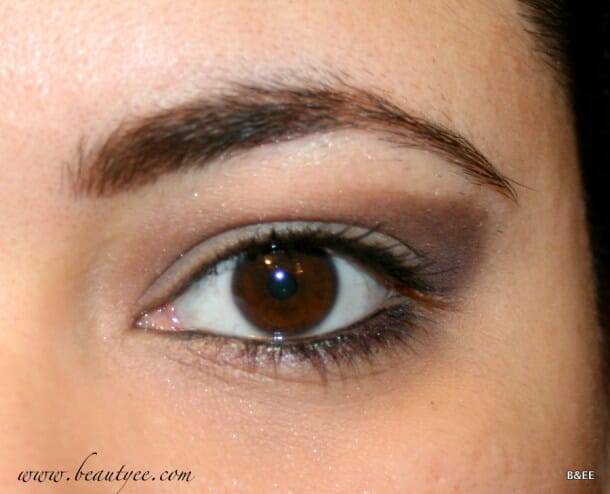 -> As a liner : it stayed well on the lids but started fading a little after 4hrs.
->As a shadow when blended on the lids & mainly crease : It stayed longer- around 6hrs. And no fading or creasing.  
CONS :
– It is really soft so I guess carrying it in your purse in extreme hot climate is not advisable.
– It does not stay for 8hrs on my oily hooded lids.
– I feel the cost is a little steep. IMO- 20$ would've been great!
– The shades could be a tad darker.
Verdict : I loved it as a crease shadow & this will be very helpful for women who would want to look nicely put together but can't spare much time.  And for those who have to get ready & go  "in 10mins"
I am definitely getting at least 1 more!