AVEENO® Celebrity Hair Stylist, Patrick Melville created a rocker chic hair thematic to complement the F/W 2013 designs of Monika Chiang as a part of New York Fashion Week!
Patrick created lots of volume for his female version of the fauxhawk by utilizing his backstage power tool, AVEENO® Pure Renewal™ Dry Shampoo.  "One of the things I just love about dry shampoo is how versatile it is as a styling tool," commented Patrick.  "For the Monika Chiang show, I applied the AVEENO® Dry Shampoo to the root of the hair to create the texture and lift you see at the crown."
Here are easy to achieve, backstage tips for an at-home faux hawk, a great look for a night out:
·         Wet the hair down with water, add a little volume spray at the root and apply a small amount of styling glaze; blow dry hair with a paddle brush to help create shine
·         Next flat iron hair straight and apply AVEENO® PURE RENEWAL Dry Shampoo to root to create texture and lift; next use a tall comb and tease the root
·         Take a paddle brush and smooth over hair for additional shine, your hair will still have a lot of volume up top
·         Finally, take a banana clip from the back of the head and tie it to create a faux hawk, hair on the side will be sleek where hair on the crown will have volume
·         Tease the hair coming out of the banana clip to create texture, spray a bit more dry shampoo at the end of the hair to create some separation to finish the look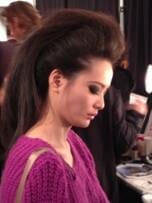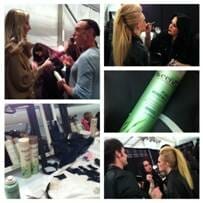 Editor's note: I am really liking the faux mohawk specially after Julianne hough pulled it off at a recent award function. Can't wait to try it!!!
P.S. : PR info