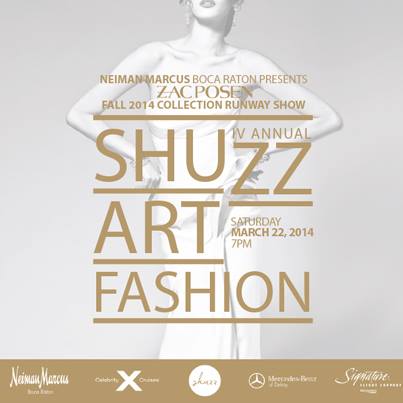 There is a fashionable and philanthropic event coming to Boca Raton this month, which you won't want to miss.
The SHUZZ Fund is a local non-profit organization that provides new shoes to children in poverty-stricken communities across the world, even right here in Palm Beach. Every penny from public donations go directly to support their ongoing programs – including,Back-2-School, Youth Athletics, International Relief, Disaster Relief and Medical Procedure Sponsorships.
Their big annual event is the SHUZZ | ART | FASHION Show, which this year will feature renowned designer Zac Posen. He will be bringing his 2014 Fall Collection to Boca Raton on March 22 – by the looks of his shows at New York Fashion Week, it's going to be amazing.
Tickets are available to the general public, and don't hesitate to grab a seat at the show because they are selling out fast!
Plus, you can feel good about yourself because 100% of ticket sales go to putting shoes on the feet of children who need them the most in this world. Stay up to date on what this charity is accomplishing by following them on Twitter and Facebook. Hope to see you at the show!
Tickets start at $100 for general admission and are available here:http://shuzz.org/tickets