Yupp, I'm finally starting to either record or click pics when I do my FOTDS….  That was the main intention of me starting a blog (also, testing products on different skin conditions) but I was not doing it, or when I did the pics came out crap or the lighting was bad.  But I'm working on that and thus begins my FOTD series!!!
I wore this look for the Valentine's day dinner date (Although we ended up dozing on the couch – long story ;)) but this can also be worn on cocktail nights, 1st dates, meet the parents date etc etc.  Also since mauves and purples are such universal colors that they flatter all skin tones and skin types.
So, without much footage, lets see what I did 😉
1) Applied Soft brown shadow in the crease and outer -V [as a guideline]

2) Take a shimmery pink/mauve & apply it on the inner 1/3rd.
3) Applied Nocturnelle (a deep purple) & applied it in the middle and outer lid , also blending it in the crease [Applied with a very light h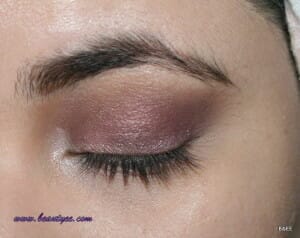 4)Blend the heck out of it with a clean blending brush. Apply more if necessary.
5) Applied SKETCH on the outerV and blended again.
6)Applied a Shimmering pearly eyeshadow in the inner tear duct and on the brow bone.

7) Applied eyeliner. I did not want a wing but I extended it a little beyond the eye to look like a flick!
9)Applied a pretty pink blush very lightly just to give a bit of a color. 
10) And that"s the finished look.  I got really drunk after that and hence couldn't take any more piccys. LOL. but this is the only pic I found which has my full face (without lippie though)
Products used :
FACE:
Revlon Colorstay mousse foundation
Loreal MagicLumi concealer
Revlon ColorStay pressed powder
Lakme day blush.
EYES:
MAC e/s Soft brown (which is my all time fav shadow)
MAC e/s nocturnelle
MAC e/s Sketch (another fav)
Bourjois pigment in rose (a nice shimmery pink)
Any highlighting eyeshadow
Black eyeliner
Kohl and mascara
LIPS:
– MAC Brave lipstick (My HG nude)
BRUSHES:
SIGMA : E25, E35 and pencil brush- E30  
Drugstore brushes for powder and cheeks
Hope you like this look. Do let me know if you wear it!
à bientôt!!!!