Ever been in a situation where you passionately create a beautiful eye & then it doesn't come that way in pictures because of crappy lighting????  This is a perfect example of that situation. I hooked the cam to a big a$$ tripod & clicked about a 100 piccys but only a few are useful now because the lighting decided to play spoilt sport & it started  raining :((
I felt so bad that I didn't want to post this but I really really wanted to do an EOTD & I really slogged for this so I HAD to post!
This is what I did:
1) I primed my eye using Maybelline's "bad to the bronze" – which BTW completely dried up within a few months & is absolutely useless now – I'm trashing it!
Then I applied a golden bronze pigment in the inner 1/3rd of the eye.
I used the copper shade from the MAC mineralize duo "Mix & switch" & applied on the outer corner & the crease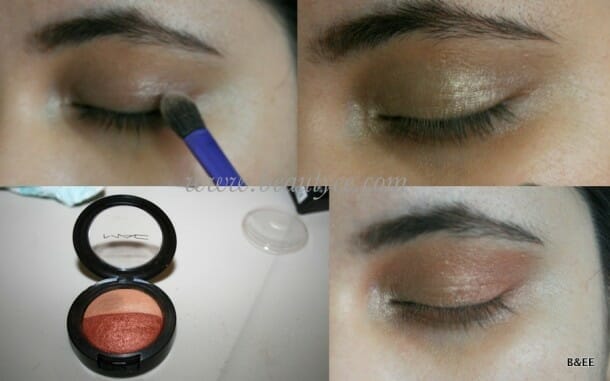 2) I applied Loreal's loose bronze eyeshadow  (It's a dupe for Satin taupe) on the outer-V and blended the heck out of it with the copper shade to marry them together!
Also applied Loreal's black brown gel liner & winged it slightly in the inner & outer corners to give it an Arabic effect!
3) Used a peachy pink blush lightly on the cheeks.
4) Used my fav lip combo at the moment : Revlon nude lip liner with MAC Brave lipstick.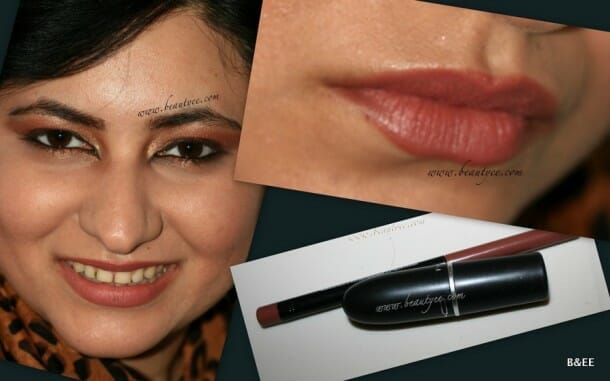 Rest of the Products used :
until later,
Bee <3
P.S – For some reason my hair suddenly decided to be a mess, my face looks all bloated & my teeth look yellow….. I swear to God, I misjudged the havoc bad lighting & bad camera angles can create! My husband's S3 takes better piccys :((