Hey all my gorgeous people!!! Hope Irene is not troubling you… Or if you're in India the rains are not slapping you! I haven't been out all week because of all this hoopla! well, hope everything gets all better soon!!!
Well, If you've been going through your monthly dose of  mags/ET  you'll find that the stars and other celebs are running errands in their sweatshirts – and not just any grungy sweats, they are all dressy and sequinned. I first saw a couple of pics and didn't think much… but by the time I devoured the whole mag I realized this one is here to stay….
So presenting some of my favorite sequinned numbers…..                                                           WARNING: Pic heavy post- you will be blinged!!! 😉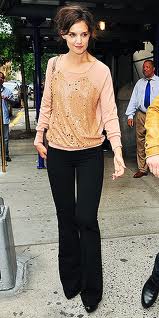 My views on the trend: Personally I'm not such a big fan of too much bling on me.. but I'd like subtle details like on the shoulder or front pocket or some small design in the front…So, what do ya think? which one you liked the most??? I loved the 3rd one from the top!!! which one would ya pick???
and now hubby's awake and the hunger-monster has struck us so gottago….
[P.S all pics from google.. If they are your's do let me know and I'll take them down]