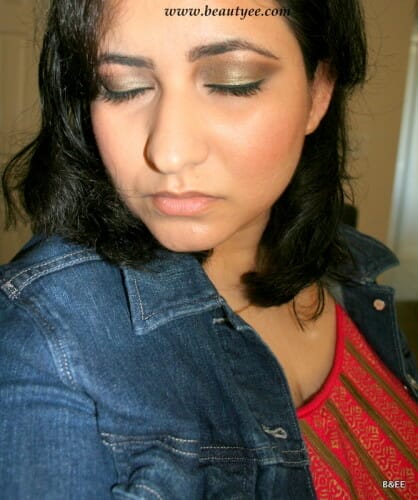 If you've been around my Instagram (HERE) & twitter (HERE) , you know that I've just moved to a different apartment last week and still haven't unpacked or settled yet. But yesterday I got a chance to go to an event which was organised by BLOOMINGDALES for Breast cancer Awareness, I decided to get out of my somber mood & go mingle with some fellow bloggers. [still editing those piccys so will post about it soon]

This is what I came up with:
I don't have much products from
Inglot

but I really liked this particular olive shade #491.  I paired it up with a deep taupe

MAC's Keep your cool

(reviewed HERE) and a simple swipe of

black liquid liner and tons of kohl

. I wanted to apply a green liner on the bottom but these days I'm feeling a lot of anxiety for some reason so I kinda hurried through the makeup. I had a sample of  

NARS alaska  BB cream

which I wanted to finish so that's on the face along with

Victoria's secret bronzer

(reviewed HERE) &

MAC's lovecloud blush

(reviewed HERE). For the lips, I first applied NARS cruella crayon but ate it with the cupcake so refreshed with an Illamasqua lippie in the mall.
Hope you all liked this look. I'm planning to post more now that my internet is active. please keep visiting and have a great weekend!