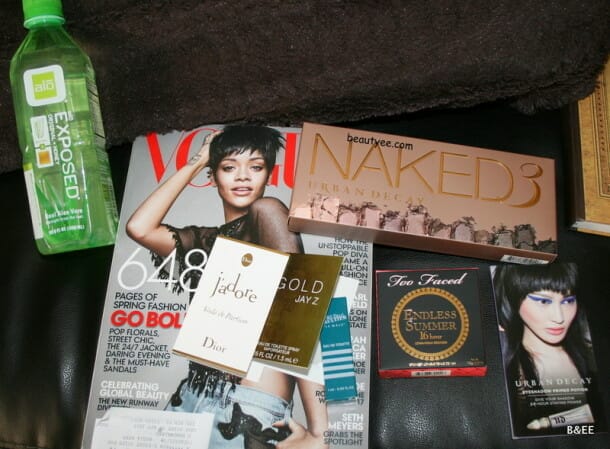 Hey gals… hope y'all doing great…. The new season of Voice seems to be great and these days I've started watching Heroes as well… which series are you binging on???
As the title says, I've been really sick since a week now & my energy is sapping out for some reason. I hate to consult docs here but I guess It's high time I visit one. Anywho… Enjoy these piccys. I finally got hold of N*ked 3 after looking al the swatches of all 3 online for ages. Can't wait to play with it!   Also, I needed a good Bronzer for summer which was neither shimmery nor too matte. But it is a sponsored product so can't technically call it my own. I also got some samples which I'm going to use while traveling.   Also, a new Vogue subscription- yayyy! this issue is massive- but too bad, 3/4th of it is all adverts… yesterday, I burst out laughing looking at all the models. I  think the meds are driving me nuts.LOL
Some1 suggested I drink the Alo water. I love it now. I'm going to get more. It has real Alo in it with some honey I guess- tastes like heaven 🙂 have you tried it?
Bee
Want to keep updated? Follow VIA; Bloglovin'