For as far as I remember, I love applying eyeliner… and specially gel liner at that. they have a different appeal to them. I have serious oily hooded lids so getting any kind of liner to stay o n them is a humongous task… I tried Maybelline, stila, and quite a few I tested but I wasnt overly happy with any of them. I want to have a liner which I draw on my eyes and just forget about it when I go by the day. so when I heard every other beauty blogger raving about Inglot  gel liners so I knew I HAD to get them…  So am I happy? well, read on!
Inglot says:Long-lasting, waterproof formula.
Can be used as an eye shadow or body painting gel.
Brush number 30T is recommended  for eyeliner application.
Everyone and I mean every single person I saw on blogs or youtube love it.  So even I caved in and got it. I was so excited to use it.
Quantity wise Its great At 12$ for 0.19 oz, they're quite affordable.  It is the blackest of blacks and has the creamiest consistency I've ever seen in a  liner… it really rocks that way. also the tub is very light weight (being plastic) so Its very very travel friendly. The color payoff reminds me of Urban Decay's Perversion since it's super black and pigmented.
Inglot's AMC Eyeliners are extremely emollient. I'm actually a bit surprised they're labeled as gels and not creams. They should've been labelled as creams and not gels.. they are freakishly creamy. They glide beautifully on the lids and I don't have to tug my lids or even stretch them.  I swatched them on my hand and even when I washed my hands and all, it didnt budge. but little did I forget that waterproof does not necessarily mean Oily-lid-proof :((
I have been using this since a week now and in all conditions… at home, in an AC mall, out in the sun, at friend's place… it gives the same results after around 2-3 hrs… it directly transfers on my upper lids :(( I so hate when that happens 🙁   I even tried to set it with a black eyeshadow.
Example: this is the look I created while going out yesterday (and it was brutally cancelled- but later about that) So I applied my shadow, liner etc and after an hour this is what it looked like:
the liner is directly transferring like a semi-arc on my lid 🙁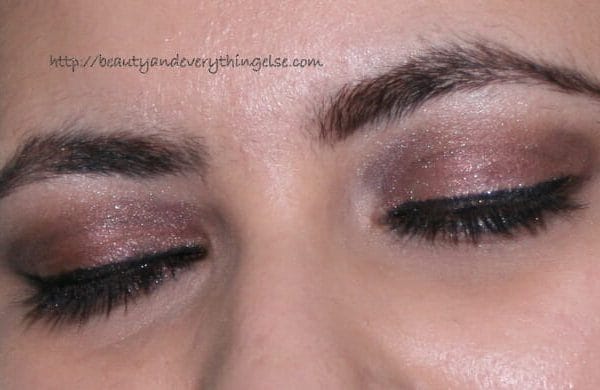 Also, Right now as I'm writing this I see my eyelids all smudged up. I applied it at 11:30 am and now its 4pm.  Damn it- even my liquid liners fare better.
If anyone has a solution for this please comment below or mail it to me… I really want this to work because the only mall in Miami having Inglot is an hour drive and hubby is going to get real busy so no1 will drive me there *booo hoooo*
I cant really give a verdict here because clearly its the fault of my eyelids and everyone loves the liner… So- go figure!!!