So… I'm in a kind of bored, claustrophobic and deranged these days. And I have tried everything- from running on the mill to chopping my hair up the sink and buying a skirt [why do I even buy them, I never wear skirts] but today feels like friday and friday is my fav day (basically, I'm in a good mood) so I've decided to review a MO-FO!!!!  LOL… yup!
L'oreal says: Dare to go from everyday to exotic with Voluminous®Smoldering Eyeliner. The secret to its intensity is in the dark kajal formula. Used for centuries by women in India and other Eastern parts of the world, kajal is a richly intense black ingredient that delivers stunning definition. And with Voluminous® Smoldering Eyeliner's unique conal tip, it glides on effortlessly for a dramatic, captivating eye look.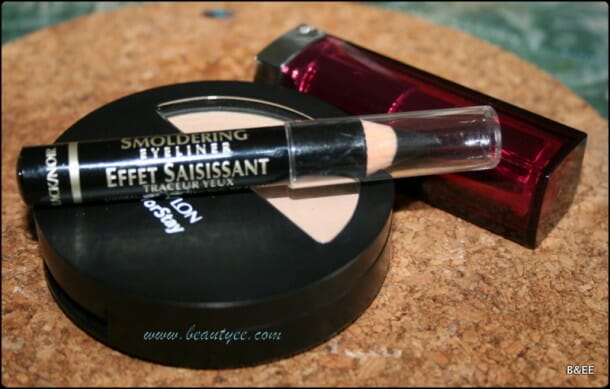 My Experience with the liner : The most essential thing in my make-up is a kajal/kohl/liner. There are days when I will just walk out of the house bare faced but I NEED to have a dose of kohl. I got this on one such "I want a chubby stick in my hands" whim.  REGRET!!!
It is really really black & really really pigmented. but like I said before…. it smudges like a MOFO.  But then the packaging doesn't say smudge free either, so I can't blame them. I use it to create smoky eyes and sometimes just smudge it around my eyes and layer with a black/brown shadow. The tip of the kohl is rather long, the package says it can be used for thick and thin lines… but I guess I need to practice with this more. I hate the fact that it transfers all across the lids within the 1st hour so oily lidded peeps should buy it with caution.
It comes with a sharpener and would've been cool if it had a smudger at the end.
Verdict : 2 out of 5.
repurchase : hell no!
P.S . I just counted : I have 9 black eyeliner/kohl pencils. who's topping that? let me know in the comments below your number 😉