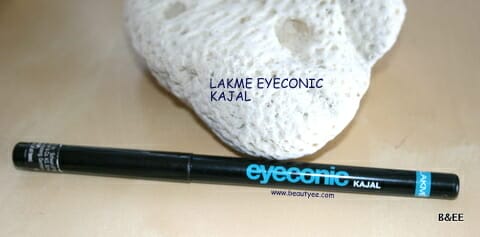 I do not have to tell you how much I love a rich black kohl. Right now I have about 9 black eyeliners & if My hubby reads this, he won't let me near a beauty counter for a year. hehehe.  On my last visit to India, this had just launched & it looked nice & sleek. And the turquoise on black gives it a classy look. Also,Kareena Kapoor endorsed it which really wanted me to grab it.
Lakmé says :The new Eyeconic Kajal by Lakmé is literally iconic as all you need is one sweep of kajal and it lasts for 10 hours. The product is waterproof, it doesn't smudge and it is even safe for the eyes since it is dermatologist tested. The Eyeconic kajal and mascara by Lakmé forms the perfect combination in creating a look that is sure to get you noticed!  You can now transform your look from drab to fab with just a little kajal and a hint of some mascara.
Cost : Rs 199/-
My take on the Eyeconic :  I frikkin love it! It has become my fav eyeliner. So much that I use it only on special occasions so I don't finish it off!!!  It is dark but not the blackest black. But totally buildable from day look to night smolder. It comes in a twist up pencil & thankfully it twists back in too. I've used it on the hottest of days & it does not give me raccoon eyes. in fact, it stays on the waterline quite nicely. Gives me about 6-7hrs of wear after which it just slightly smudges. Removing it is a pain though. I've to use a little more baby oil to get it out! sometimes when I can't I see remnants the next morning. It has quite a soft texture and very lightweight. I don't feel as if I'm wearing anything on the eyes (That's how I like my eye products to be)
Lakme Eyeconic Kajal review
Verdict : the next time I visit India or some1 comes to visit me, I'm getting backups of this. Love it!!!