Heyy lovelies!!  how was ur week? and its finally friday ,…  yippeeeeeeee!!!! friday is my fav day and sunday evenings I dont like 🙁 they make me sad sad :(( Last weekend was fun and this weekend is going to be busy busy for me :(( but do tell me what fun you all had!!!
Anywho, I know I'm late to post about this trend but its in my mind since last month now so I just HAD to write about it!!
Well, it started when the bible(cosmo) started promoting this new Pirates Of the Carribean Nail polish line by O.P.I. The new nail polish shades are Skull & Glossbones, Steady As She Rose, Sparrow Me The Drama, Planks A Lot, Stranger Tides and Mermaids Tears.  And to top it all off, the new OPI shatter nail polish–Silver Shatter.  I glanced at silver shatter and honestly- I was floored!!
Initially OPI's Katy Perry range had also come out with a black shatter but I honestly thought it was more halloween than party look so I kinda avoided but this latest range has me smiling 😀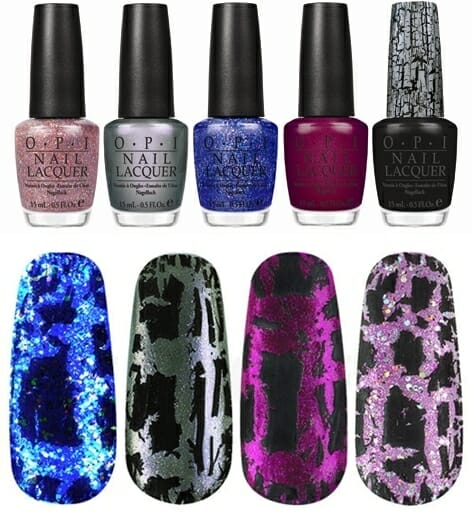 The trick is: you apply your normal nail color. let it dry and then apply a coat of the shatter nail paint to get the above shown effect!!! Simple naa!!!!
Now-a-days many other brands such as Sally hansen, covergirl, china Glaze etc have come up with the crackle formula but OPI rules..
Every time I go shopping this range is sold out so haven't laid my finger on these ones but soon….. very soon 😉 And Ive read very mixed reviews of these but WTH- its worth a try right?
so temme, did you like the range? which ones would you like to try out???  Have a great weekend peeps and dont forget to enter my giveaway!!!
BTW- Speaking of Katy Perry- have u seen this new video??? Its a total riot… hahahaha. Do let me know if you wanna see her make-up look!!

Love,
Bee
[PS: all images by google]