I have been searching for a good Tinted moisturizer (TM) for about 5-6 years now….  When I was in college there was a lot of roaming around in the sun and a normal moisturizer just wouldn't suffice.  The sunscreen was a dreaded word as I had a very oily hyper acne prone skin.  When I started working , It was the same old story. A normal moisturizer wasn't enough and applying a foundation everyday was also not a good option. I always was on a lookout for something in-between and after using a couple of duds and many many years of mixing 1 part foundation and 2 parts moisturizer (which is not always successful) – I finally found this 😀
On my birthday I went to Macy's to get a couple of "goodies" and hubby took me to the Bobby Brown  counter and the SA swatched some TMs on me but I felt it to be a bit oily and the shades didn't quite match so she took us to the opposite counter The Laura Mercier one..  and after swatching a couple of shades we finalized on the "BISQUE" (for light neutral complexions with balance of yellow and pink undertones)
About the product:  Laura Mercier Tinted Moisturizer is a sheer, lightweight formula with a hint of color you can use in place of foundation for a natural finish and a healthy glowing complexion. It contains a SPF 20 for the ultimate in anti-aging prevention.Size: 1.5 oz
Cost
: 42$ + Tax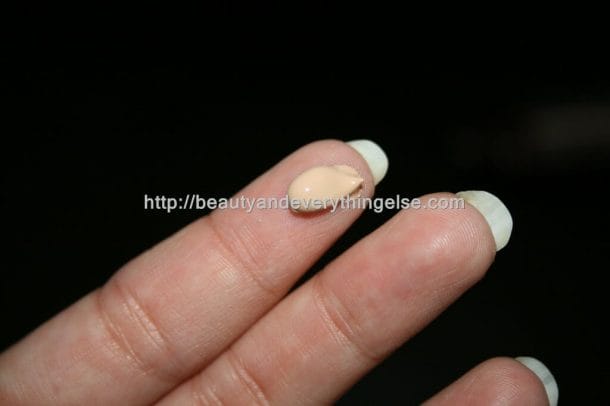 My Experience with the product
: I am using this product since about 3 months now and I am very happy with it.
It just matches my skin so well and seeps inside so there is no cakey residue or crinkling around the nose or mouth.. Also, it does not settle in the fine lines and spreads evenly. I use a stippling brush to apply this.  I just dot my face with this and spread with the stippling brush.  I re-apply sometimes on my cheeks or near my nose if I have some redness but one application is enough. It gives a nice dewy finish so on my good-skin days I don't even apply a powder on top. but Ideally I do dab a bit of some pressed powder. Just gives a nice even finish.  Make sure that you use a finishing powder to set your look though. Otherwise this will just feel moist all day.
And these are some of the pics in which I wore this:
So, summing it up:
Yayys :
– Great for everyday use.
– Provides a light-medium coverage.
– Spreads evenly.
– Wide array of shades.
– Sinks into the skin nicely but doesn't settle in the fine lines.
– Gives a very natural even finish.
– Has SPF20.
– Dermatologist tested.
Nayys:
– Very expensive at almost 45$ with tax.
– Not for people who want a heavy coverage.( I can sometimes see some of my open pores)
– Doesn't give a matte finish – so if you roam out in the sun for long you might get oily 🙁
– I have heard from some people that a BB cream works the same way.
Verdict: It IS a great T M and works great but is it realy worth spending 45$? I don't think so.  I would think 10 times before buying this next or rather try  a BB cream…
So which Tinted moisturizer do you like?