Hey pretty girls… these days I look at my 120 palette and I just feel like playing with colors.. and before I  used to keep looking at them and get all confused… what goes with what? what will counter what else? and how do I keep hem from getting muddy 30mins after I apply them….  so after lots of trials and help from ppl I'm finally getting the hang of it…  so I decided to foray more into colored EOTDs… you'll be seeing a lot more experiments here now.. heheheh
I have used  this palette for the tutorial.
1) Prime the eyes.. I used NYX base in skin color..
2) Take a golden-yellow shade and  apply it in a patting motion on the eyelid.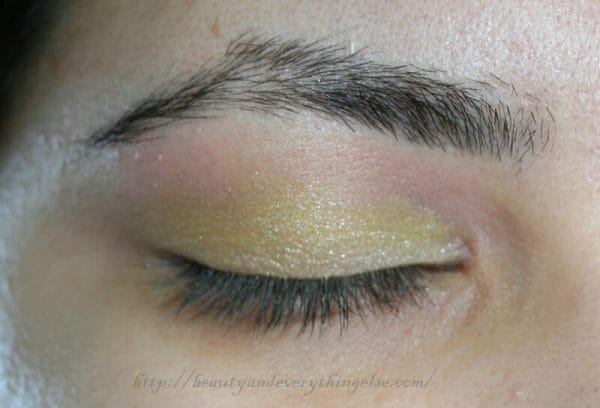 3)  Take a dark green eyeshadow and with a pencil brush apply it on the crease and the outer V.       you can create a slight wing if you want.
4) Apply an Orange shade on the inner 1/4th of your eyes.
5) And now we go to a party like that….
LOL  no we don't. we go to step 6.
6) Blend blend and blend some more…   blend in the crease and outwards.  Also blend the orange inwards so it kinda looks like this.  you can also add black to the outer V to create more depth.
7) highlight the part just below the brow-bone.  And you can freshen up the yellow if you want.
8) Apply eye liner. curl your lashes and apply mascara.
And you're done 🙂 all ready to flutter your eyes 🙂