Hey pretty peeps…. its a new week and  hopefully this week is short. What did you guys do for thanksgiving? We visited Orlando and its such a yayy-worthy place :DThis post was long due but I wanted to test the product completely on my skin before recommending it -if you know what I mean!  I have a combo-oily skin and sometimes  -especially during these dry windy days  my skin flakes out in places and is oily in other places…  even right now my skin is all patchy – near my nose, chin etc
When I was ordering from Liz Earle,  I spoke to Louise and expressed my concerns about the irregularity of my skin. Also that i wanted to start an anti-aging regime -she suggested this cream and I trusted her.
When it arrived I was so impressed with the packaging- I mean -look at it!!! and it was packed so well…  It also contained a book of all Liz earle Products which are damn impressive too 🙂
About the product: This rich, luxurious, fragrance-free moisturiser for more mature or very dry skin contains a powerful blend of high quality naturally active ingredients to smooth, plump and replenish for healthy, rejuvenated-looking skin.
Containing high levels of GLA and rich in omega-3, Superskin Moisturiser helps prevent moisture loss and improves skin elasticity, while pomegranate fruit extract and natural source vitamin E, both rich in antioxidants, help protect from environmental damage.
Apply Superskin Moisturiser to face, neck and décolletage morning and night as part of your essential daily skincare regime.
Naturally active ingredients include precious cranberry, borage and rosehip seed oils.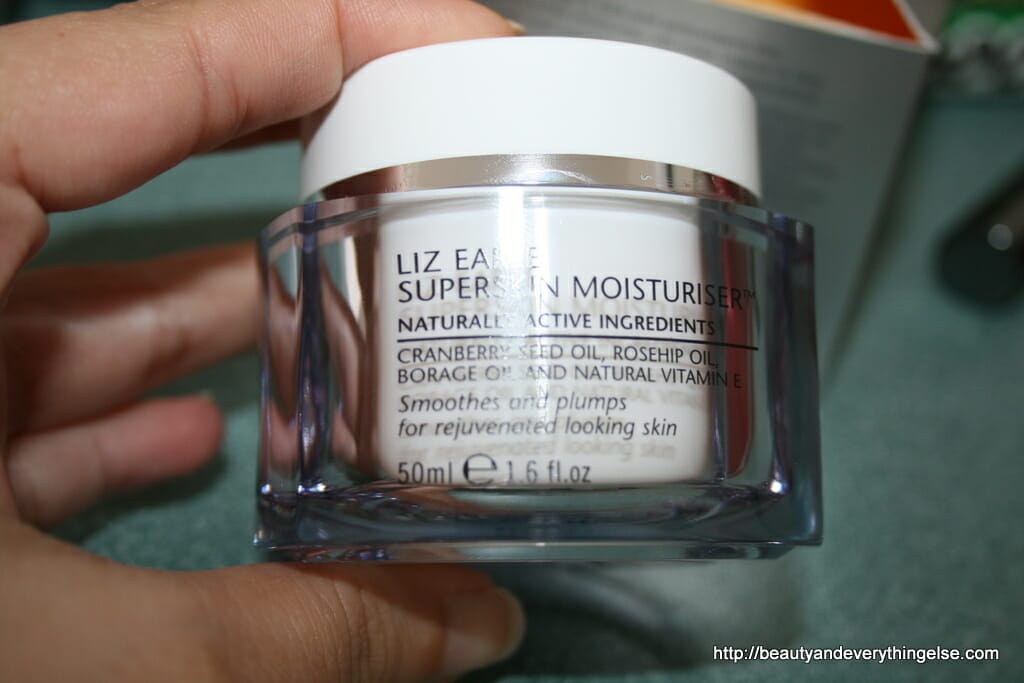 How to use: For optimal results follow the specific facial massage techniques provided, to help clear toxins, reduce puffiness, boost circulation, encourage cell renewal and aid lymphatic drainage:
Step 1: Apply to face with upward and outward movements using firm pressure.
Step 2: With your fingertips, lightly smooth in an outward circular direction along the cheekbones to above the eyebrows.
Step 3: Using the thumb and ring finger gently pinch along the brow bone from the nose to the outer edge of the brow.
Step 4: Finish by gently sweeping your hands up the neck and over the décolletage.
Ingredients:
My Experience with the product: Honestly, when I received it, After the excitement subsided I saw that the product was for dry/matured skin and i was a bit disappointed . I even thought I'd send it over to mom  But still the packaging and the cream looked so inviting that I had to try it out 🙂 So  I did at night and followed the instructions on how to apply it- my skin absorbed it immediately and felt nice and supple. but when I got up in the morning I saw a sheen of oil/moisture on my  face… feeling a bit sad I kept it in my drawer again thinking that I'll use it in winters…. from the past week now that  its getting cold- my skin started flaking and getting red. So I tried buffing it with a light scrub and then in the steam-filled bathroom, applied the moisturizer as instructed above- I swear to God- It just melted in my skin – my skin felt so soft and supple and all the flakes were subsided (not gone) in the 1st use itself.  I still waited for a couple of hours and well, no shine 😀 some redness was still there but no shine- it sunk in so well and the massage helped me relax more.
PROS:
– The do not test on animals.
– The moisturizer sinks into the skin so no thick-creamy  feeling on the skin.
–  Takes care of flaky skin and adds suppleness.
–  No odor/smell.
– I felt my skin looked more toned.
CONS:
– Availability-> its available only online or on QVC.
– I read some people saying its too thick for them: but seriously, it says its for dry skin and it clearly meant that its more moisturizing and is thicker than the average moisturizer. So acne prone beauties should probably stay away .
what I do is I apply it on the dry parts and I apply the normal one on the probable oily parts.. these days I just apply it all over because I'm having a bit of redness and flaky cheeks…
Seriously, i look flushed all the time 🙁
Overall Verdict: I totally recommend it. Dry skinners should use it all the time and oily skins like me – in winters or on those days when skin is partly flaky 🙁  The skin really needs to get its moisture or it leads to a lot of other problems- tried and tested 🙂
PR sample but honest opinions. Do check the disclaimer for any doubts.