How's the weekend going on chicas??? mine is pretty quick quick… but honestly, the week went on so quick I didn't realise it was friday eve already *chews nails*   I'm planning to visit Macy's this week… let's hope i get to go.
Earlier this month I visited MAC and got invited to the "Reel Sexy" collection launch event. Though I didn't pick anything from the collection, I picked up a few pieces from the  permanent collection. I picked this up and the gorgeous MUA said that this was a "must-have" from MAC. A person who has a MAC collection should never miss this 🙂 . Well, I didn't need any more convincing 😉
Cost: $11 in the PRO pan and $15 for a tub package.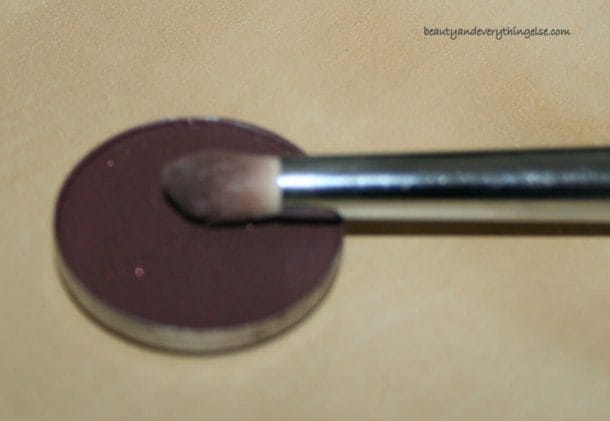 Sketch is a velvet finish eyeshadow. MAC describes it as burgundy with red shimmer. It is a purpely but deep burgundy brown with barely there shimmers. It is a velvet finish eye shadow that maintains its pigmentation while applying. The texture is Velvet, so it's closer to Matte than Satin but contains enough shimmer to keep it from looking totally flat, though you can't see the particles at all. This is a very buildable e/s and looks different when paired with different color…. neutrals or darks.
IMO this is one color which will suit everyone and can be applied in a variety of ways:
– I wear it as a light wash all over my lids (preferably with a liner underneath).
– I apply it on the outer V
– I apply it on the crease.
– I have even tried applying it as a liner with a wet brush
– smudge your eyeliner with this and it gives a soft smoldering look.
Summing it up:
Yayyys:
– It's a beautiful warm shade 🙂
– Very pigmented (shows much better with a primer underneath)
– Is a multi-purpose shade. Can be applied in a variety of ways 🙂
– Gives a soft as well as smoldering look.
– Awesome texture and pigmentation.
Nays:
– you need to be careful while applying it or it may look as if someone punched you (as it has purple undertones. I'd recommend, start light and then build up)
– The color pay-off could have been a little bit better.
Verdict:  I am loving this shade a lot and so far, this is my most used eyeshadow in very little time.  I highly recommend it 🙂 Will definitely repurchase 🙂
P.S- Sketch can be worn with : all that glitters, paradisco, tweet me, twinks, patina, shale, star violet, vex, seedy pearl, ricepaper, cut to fit, and goldmine. it also plays well w/go, bamboo, coral crepe paint pot, and as well as pinks like da bling and sunset b for a sunset-y eye. and with satellite dreams and sweet lust (info from google)