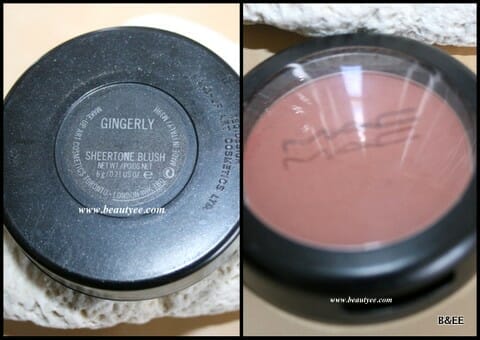 Meet another love from MAC. The ever famous Gingerly blush!!!  As again with ORB, it looks like a biscuit in the pan but it gives you the most flattering sunkissed look.  This is one blush I had to repurchase because the last time I visited India, one of my cousins liked it so much on me that I gave it to her right there.  And this is definitely on my HG list. It really flatters most skintones. Also, if it helps, Kim K loves it.
 MAC says : Gingerly -"capri bronze".  It's a warm toned terracotta tan with slight orange undertones.
Finish : sheertone
Cost :  $21 [damn they increased the prices]
My take on Gingerly : I actually had gone to purchase coppertone but gingerly looked more flattering on me. It is one of those naturally peachy  blushes.
For some reason it reminded me of SnowWhite (As in peaches & apples skin)

. This is a sheertone matte  blush  so you can apply it lightly or build it well. That means you can use it for day or night, work or party!  I used it as an all over bronzer too.  would not use it for contouring though as it has teeny orangey bits.  And no shimmer so hallelujah!!! For me personally, I like the warm soft appeal it gives my face. Like I'm naturally blushing!   It has a soft texture & no fallouts. Absolutely delightful pigmentation.  It gives me 5-6hrs of wear time on a hot humid day. (I have oily skin so I dab my face a couple times during the day).
Verdict : Do give it a try when you go to MAC next. I'm sure it'll make u smile 🙂