If you ask me about my most favourite make-up product from MAC even in my sleep I will blurt out "The paint pots" without even thinking… yes!
I had "Bare Study" and I almost used it up [but it kinda cracked in a journey so I threw it away.] And MAC products last a really long time… I mean REALLY long- And it's like the BATA shoes we wore in school, i got bored of it :((   SO this time I decided to get something different!
Paint pots are cream eyeshadows which are more often used as an eyeshadow base to prevent creasing.
About MAC Groundwork Paint pot:
It's a creamy eye color base which dries to smooth, vibrant finish.
Works great for medium to dark tone skin.
It is a neutral taupe color with satin texture specially suited for Indian skin tone.
It has a long-lasting and crease-proof formula.
Price: $17.50
Finish: satin
Painterly looked really ashy on me so the MUA at MAC showed me this. Groundwork is a nice tan, light brownish colour. It is satin finish and glides on the eyes like a dream 🙂 just like all of the other paint pots 🙂   Groundwork is a neutral taupe shade that is perfect for people with medium to dark skin. Fair skinned people can also use it specially when creating intense smokey eyes or intense brown eyes.
The texture is smooth and creamy. I use it with a flat shader brush but the MUA said I can also use it with a blending brush.  Also there are fingers to work with 😉
So far I've worn make-up continuously for around 7-8 hrs and This stayed put.  No creasing, no fallouts and most of my less pigmented eyeshadows tend to look much better with this as a base. The staying power increases a lot 🙂
Yayys:
– Great as a base.
– stays put for hours.
– adds an intensity to the less pigmented shadows.
– Really great for NC 30 and above.
– A teeny tiny amount is needed per application So it will last me forever!
– Some of the paint pots [like Bare study] can be used alone on the eyes for a quick do.
– once it sets it's hard to remove 🙂
Nays:
– My only problem with this is that it makes my eyes look as if I have dark circles :((
– Cost is a factor but then it really lasts long.
– It might not suit fair skinned beauties.
– Once it sets its difficult to blend.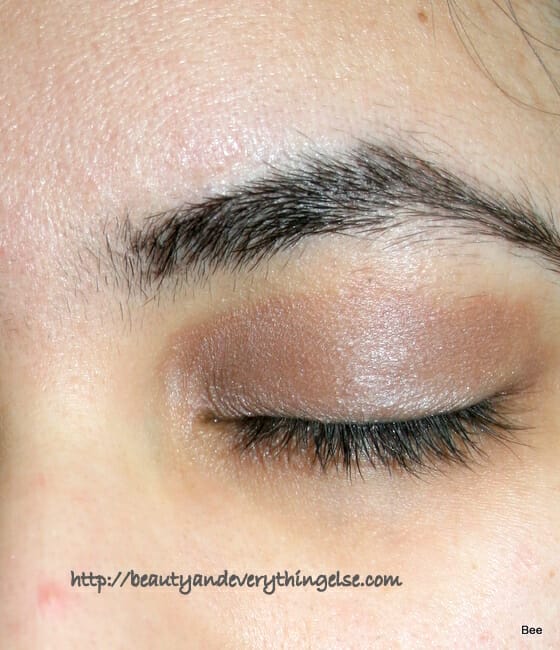 Verdict: Dusky beauties should grab this one fast because honestly, PPs are the best bases in town!!!