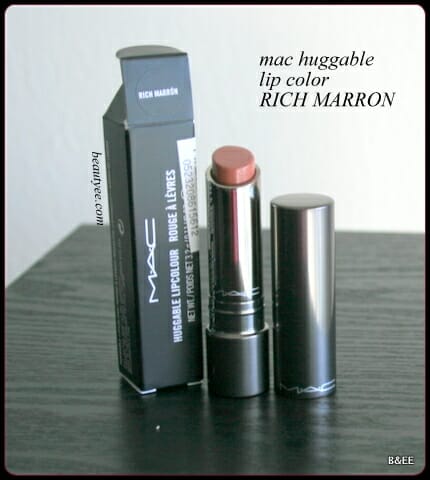 I love lipsticks which have a glossy feel to it. Brownie points if they are nice and pigmented. They kinda make the face look effortlessly soft . MAC Huggable lipsticks are a collection of gel based lipsticks with bright hues, a light formula, and a super shiny finish. They come in 12 shades and are Limited edition. These are actually inspired by the Asian/Japanese trends which honestly, I like! I picked this particular shade because N*de lips are quite a rage this winter and I didn't have anything brown. BTW,did you see the makeup for the Golden Globes?
Shade :Rich Marrón: Mid-tone nude (Cream)
Cost : $20
My take on Rich Marron :Packaging wise, these are packed in sleek and shiny granite colored tubes not the standard black tubes. The shape of the lipsticks are also different, a flat topped bullet which snaps close tight. So you can put it in your purse and forget all about it.  I honestly was just there to get Brown script(One os my fav eyeshadows) When the SA suggested I try these. Now I regret not hetting more. I really liked these more than a lot of the normal lipsticks. MAC always gets me 😀  These are a little more heavy than the normal MAC lippies but it doesn't bother me. They feel gel like and stick to the lips a lot longer than your average lippie. MAC claims a 6hr stay but we all know how that goes.. I don't think I have ever seen a lip product lasting more than 3-4hrs. This shade Rich Marron is kinda Mauve-ish brown. it looks nude and/or brown as the light hits. Also kinda plummish. The shade collection is lovely and I really hope MAC makes it permanent.
I have been wearing it for a week now. Even today, I applied it at 11-ish and now it's 5:30pm. I ate lunch & had 2 cups of coffee. My lips feel soft and I did not have to apply lip balm. Also a tiny bit of tint remained, which is a plus. great for sightseeing outings & date nights.
Verdict : Don't miss it if you have it in your city. They are really worth collecting.
Bee
Want to keep updated? Follow VIA; Bloglovin'