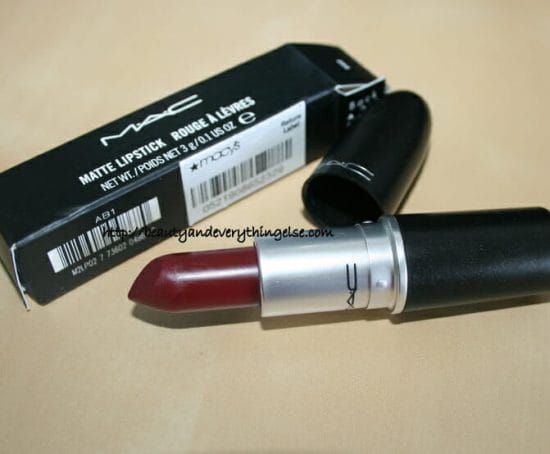 I was never into dark lipsticks. I still am far away from the suppa shockin lippies  but Ever since I heard that a red lipstick is like an LBD for the make-up, I knew I had to get a perfect red lippie for me 🙂  I already had VIVA GLAm 1 (reviewed here) but it wasn't red enough for me.  in fact for some reason it looked orange on me specially in piccys  😥 🙁
In an ideal situation I would've never picked this color. actually the event unfolded as folllows:
Me went to MAC and asked the SA for a perfect red. I even applied my viva glam to show her what I was talking abt.  We tried and swatched a ton of lipsticks when she suddenly squealed and ran away and got this lippie for me to try. I tried, then blended with my finger, then applied again , then went out with the mirror and saw it in daylight.  I just love MAC SAs- they  are always so enthusiastic to help and recommend things.
MAC says: An intense burgundy lipstick with red undertones.
Its a matte finish and comes in the stardard MAC black packaging of 3gm.
Allure magazine also featured it in The 5 Best Makeup Looks From the Fall 2011.
My experience with DIVA: Like I said, I'd never would've picked this for me if I'd read about it before or seen its swatches but it was so random and I guess sometimes Random works- for a lot of things 🙂 Even though its matte and supposed to be drying… it looks like velvet on my lips for some reason. And for some other reason it reminds me of the Vampire diaries.It also reminds me so much of wine…mmmmmmm.. I love the way it makes me feel:) So before I start rambling endlessly….. let me sum it up: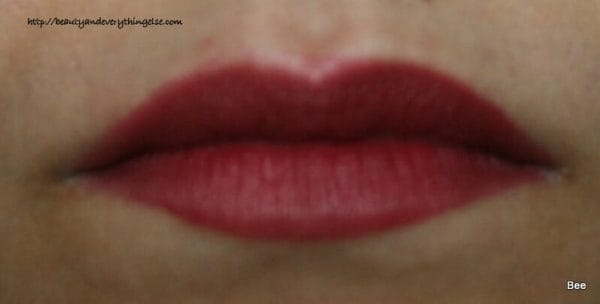 Yayyys:
– The color/shade is  absolutely sexy and IMO will work for everyone.
– Its a perfect matte for matte lovers.
– It does not dry my lips.
– Acts even better when I use a lip balm under it.
– I've tried this with both natural eyes and deep smokey eyes- it rocks.
–  I see myself wearing this with black a lot… and I'm talking even black tee and bloo jeans… yes!
–  Frikkkin awesome pigmentation.
– Staying power is about 4 hrs and even after having a full meal it stayed like a stain.
– you can wear it during the day as well. I use it as a stain and it  looks fab.
– I makes me look a little Vampy… I donno If I should put this point here or in cons… LOL
– the packaging is great  😉
Nays:
– I need to really exfoliate my lips or it settles in the fine lines.
– you might want to use a similar colored lip pencil just to avoid feathering. I didnt – so far!
–  Its $15. but then its MAC. and its much better than some of the brands at sephora.
Final Verdict:  I just love it and honestly, none of these pics are doing justice to the actual color 🙁 I took so many pics but deleted all of them…  but I will click more… hmmphhh
And BTW-  I'm NW 25 in MAC  😀  And I've also worn this lipstick HERE.