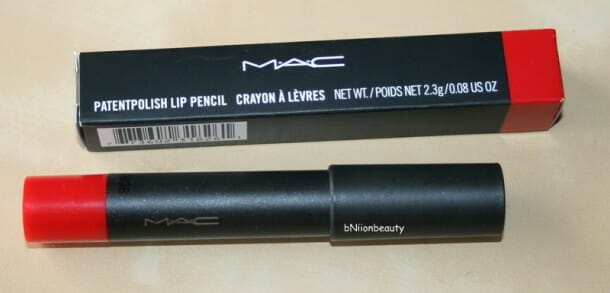 Hey gals… how is the week going? mine is fine and tomorrow I have a blood test scheduled so let's hope everything goes well 😉
Keeping in trend with my current Orange-red lip obsession, I picked this baby up as soon as they launched 2 days back… For some reason, I was waiting for MAC to come up with crayon lip products and I clicked "order"  without hesitation. Now I feel I should've picked up more 😉  maybe a pink.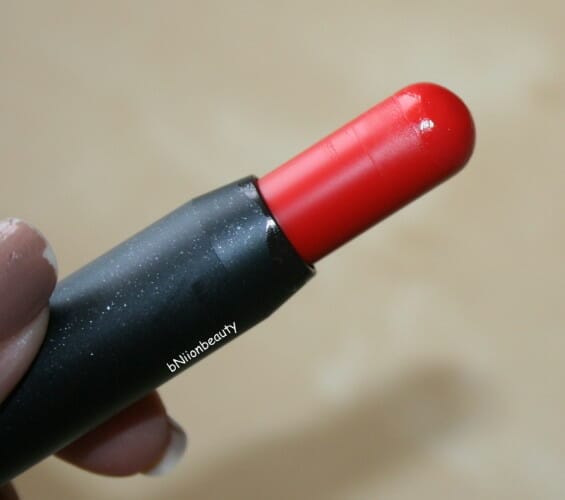 MAC says : M·A·C Patentpolish Lip Pencil is your new magic wand for lips, with a single swipe instantly achieving luscious shine. A unique blend of creamy emollients replenishes, keeping lips soft with an ultra-smooth texture that isn't heavy or sticky. The pencil's effortless twist-up application  keeps things clean and mess-free, with no need to sharpen. Enjoy colour in a dazzling range of 12 new shades that stay bright and true on all skin tones.
Cost : $20 + tax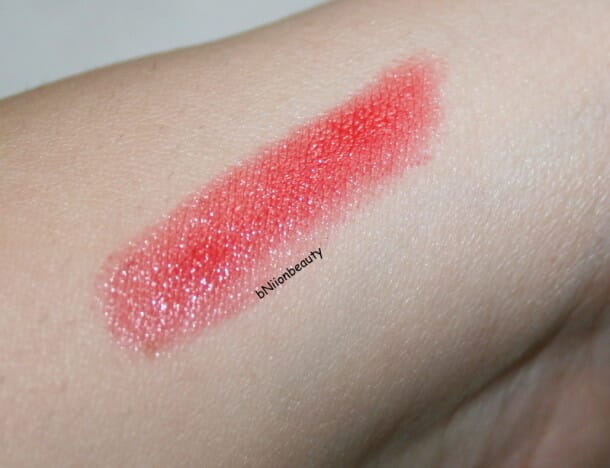 My take on Berry Bold :  I have tried NARS and drugstore lip crayons before and although NARS more than impressed me, I was waiting for the MAC magic. I have continuously worn this baby for 2 days and I think being a beauty product, I can safely give my 2 cents.
This is practically a Lip gloss in pencil form. It's like they solidified a liquid into gel-like texture. It goes on absolutely smooth and the finish is just like a lipgloss. It does not have any taste or smell. Feels slightly goopy on the lips but not sticky at all. Also, the hair does not stick to it so double yayy!  It is in a twist up pencil form so no wastage of product. I'm guessing this is targeted towards people who are always on the go and touch up in bathrooms/cars (OK! that's my imagination running wild). It gives me 3-4hrs without eating or drinking. Being a lipgloss it leaves a very mild stain behind. Also, it goes off uniformly so does not look patchy or weird. With a lipliner underneath, it stays on a lot longer.
Bonus point : Won't accentuate dry patches.  
The only CON I'd say is that it will melt if taken out in extreme heat. I'm talking more than 80F or desert heat.  Ohhhh and it's not kiss proof.
Verdict : I can totally see myself getting more. possibly a pastel pink. Since it's summer time a lot of people plan trips. This is going to be great for travel.
So what do you think? would you try this range from MAC?
Bee
Want to keep updated? Follow VIA; Bloglovin'