Ever since I remember I am obsessed with pencil eyeliners. but because of my oily lids they all lie in my drawer most of the time. or I use them to create smokey eyes. there are very very few eyeliners which I can actually use on my eyes without them travelling to my upper lids or me having raccoon eyes 🙁
SO when a product like this catches my fancy, I grab it with both hands… and in this case I literally grabbed this from another girl!
These MAC Pearlglide Intense eyeliners came out as part of the MAC Vera Collection for Spring 2012.  And they are Limited edition.  [my 2nd limited edition catch.. yayyyy]
MAC says: An eye pencil that provides rich, luxurious colour with a touch of shimmer and sparkle. Soft, smooth, creamy formula glides on for a perfectly intense line, yet its soft texture allows you to blend. Long-wearing. Smudge-proof.
The shade: Petrol Blue is a brightened navy blue with blue and light blue sparkle.
Size: 1.2 g / .04 US oz for US$15.00
It comes in 7 delightful shades and you can find more about them HERE.
My experience with PEtrol Blue: [I haven't seen the color of petrol -ever. is it blue?] MAC Pearlglide Intense eyeliners have an incredibly soft texture and blend so easily. That's what I love the most about them, their creamy formula that never pulls on the delicate eye skin area. They also glide without effort on the upper or lower lash lines. I dont even have to pull my lid like I do with others.
Once they set they don't move or smudge, and they stay put for over 8+ hours!! Yes, can you imagine that?! I can say with confidence these are my perfect eyeliners.
I am so damn impressed by MAc pencil liners. I use MAC TechnaKohl Liner Graphblack and Jadeway  (reviewed here)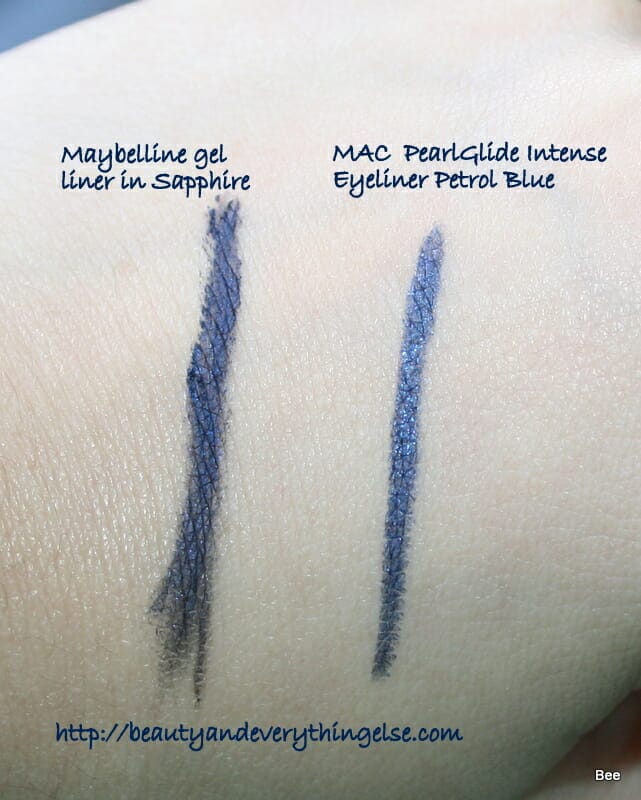 and I was already impressed. the other day I went  to get a bronzer/blush and came across this baby. I just swatched it and roamed about and swatched other things and did some stuff. when the MUA  gave me a wet wipe to clean my hand and this thing just wouldn't budge. I wiped like 4-5 times and then it went.  So what do I do? I scream yayyynesss and ask her to get me one like right then and there 🙂 and to think of it.. most of them were sold out and only the brown and this one was available. A girl was interested in this one but I made the SA give it to me…
[BTW- a special mention of the MUA Elizabeth who was super awesome, beautiful and had amazing eye makeup which I'm going to copy very soon. ]
These are very pigmented liners and packed full of sparkle but finish any look of really nicely especially on a pastel matte shadow. They are soft and butter and there is no tug on your eyelid when you are applying them.
So before I go on and on about how I love these once and might ask one of them for dinner, let me sum it up:
Yayyys:
–  Smooth, soft eyeliner with rich, intense shades that glide on easily.
–  They just  don't smudge or budge.
–  They are compared to the Urban decay 24/7 eyeliners.
–  Very lovely vibrant shades.
–  They work better than most gel liners available in the market today.
–  Totally worth the hassle..
–  I swear to god I love them.
Nayys:
– We want more colors.
– These are limited edition 🙁 MAC please make them permanent!!
– Since these are very glittery,I wouldn't want to apply this on my waterline. Although the                 MUA suggested its waterline safe.
– They are $15.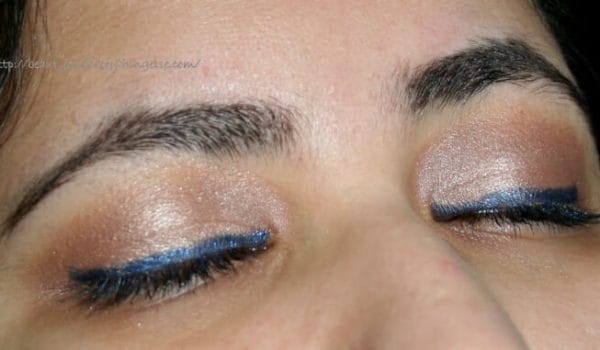 Verdict: If its available in ur vicinity, grab with whatever u can. trust me. they are the dope! I want to get at least 2 more but I've got so much MAC in this month that I'm feeling guilty now *chewsnails*
 Will I repurchase? I will. Black line – Black with gold pearl .
P.S. I applied this liner on a very special MAC e/s at 11am and now its 5:30pm. I have cooked, cleaned, danced and it has NOT budged. I swear to God I wanna dance.  also, I officially hate Inglot MUAs now. I don't think I'm going back there.