For some reason I'm on a dark lip kick these days… while my most fav for winter was the Rimmel KateMoss in #09 (HERE ), my other  fav is this baby from MAC. I'm sorry MAC for neglecting you for so long…. you guys are still my faves when it comes to lips 😉
Color-wise, It's a rich plum with brown undertones, and packs quite the punch. MAC calls it plum-brown but I think the undertones are more of a mahogany than a plum brown. This color goes with a lot of Indian skin tones so it's a cult fav of makeup artists in India/Gulf countries.
I won't say it's my favourite or sing praises about it. But I would say, I was bowled by how creamy and soft it feels. I love applying it on me. Not to mention the pigmentation. While I was applying it today, I was reminded how much I love MAC lip products.  This is my sophisticated lip color btw. I mostly wear it with formal clothes, Indian dresses & I'm sure it will look fabulous on sarees.  Most of the times I just dab it on my lips and blend with my finger. Here I've full on applied it from the tube! It stays for about 4hrs on me after which it leaves behind a lovely stain. And it does not transfer much on the coffee cups 😉 I also tone it down by layering it with a lighter gloss.
Honestly, If you want to give your mom/aunty/elder lady a MAC lippie- do try del Rio. And I'm definitely getting more from the Satin range – love the way they glide on the lips!
MAC satin lipstick Del Rio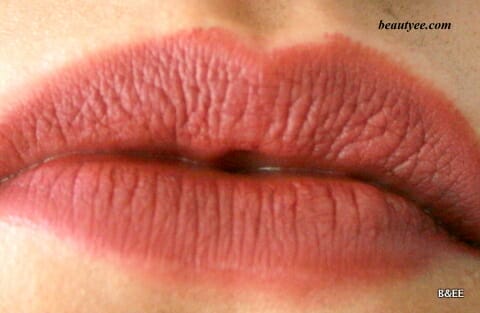 I always looked at the earlier Priyanka Chopra's Pics and thought she wore this. Also, this has been told to be used on Elaine in Seinfeld. No wonder I bought it 😉
-Bee
Want to keep updated? Follow VIA; Bloglovin'