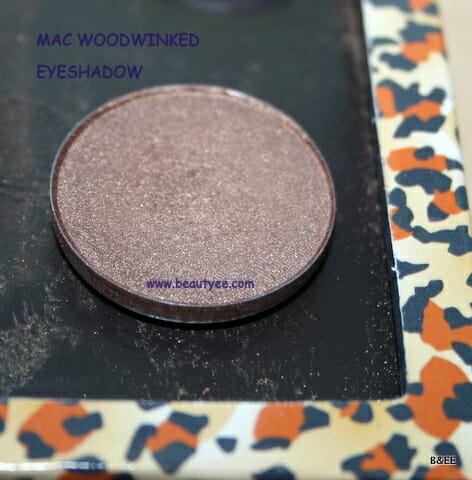 Hey peeps… how you doin??? I'ts thursday already and even though I've so much to celebrate- with friday being my fav day & it being a long weekend, I'm not so enthu. Sickness sucks. and not being able to know the reason sucks more!!!  bllehhhh!                                                                                                                                   So I decided to whip out the darling of the MAC cult. This shadow is to MAC lovers what Beiber is to 10yr old girls. I've yet to see a MAC must-have list without a mention of woodwinked!
MAC says : Woodwinked veluxe pearl eyeshadow  a 'warm antique gold' shade.
Cost : $15 in pot & $12 in pan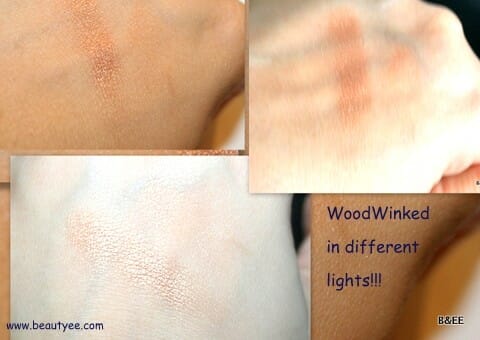 My take on Woodwinked : Like I said, I'm obsessed with it!  I saw the Pixiwoo sisters make a tutorial with this & I ordered it the next minute. I find this shadow suitable for every outfit & almost every skin-tone. It has a velvety texture with metallic shimmer. I love the fact that it looks so alluring on the lid and then can be blended on the crease without looking OTT (you know, being metallic and all). The lasting power off this is super awesome and once you apply it, you realize why the entire world loves it! It gives a nice jewelled look to the lid and a nice warm brown in the crease. I'm guessing the brush & the application technique also matter. It has an awesome staying power & with a primer underneath, stays for about 7-8hrs on my oily lids. it'll just slightly crease at the end of the day but it surely is a delight to work with. Put a brown underneath & you got the most glamorous eye-do!
I'm definitely making a bronze goddess look with is as soon as I get all chipper 🙂  btw- Nina Dobrev seems to be wearing this is a lot of her Elena looks!
Verdict : it gets a whopping 5/5 from me. A total must have for everyone. Definitely do check out on your next visit to MAC!