Hey girls.. I know I've been MIA for a week now. I was away for celebrating my 2nd anniversary and now that I'm back… I decided to quickly do a couple of looks 🙂
This is actually a very very long delayed post.  My very good, beautiful and Intelligent friend Janhavi has to attend an engagement ceremony which is of a close relative so I decided to do a couple of eye looks for her… Hope you like it 🙂
Step 1: Prime, Prime and Prime 🙂 – It makes the eyeshadows last longer and the pigment does not look sheer.
Step 2: I took this light champagne shade  and applied it all over the lid.

Step 3: I took a matte brown eyeshadow and applied it on the crease in a wind-shield wiper motion.

I also applied it closer to the lashes on the lower lid and blended it out.
Step 4: I took a matte black E/s and placed it as a dot on the outer-V area with a pencil brush.

And then blended it with a fluffy brush – like so:

Step 5:  So far it looks like this :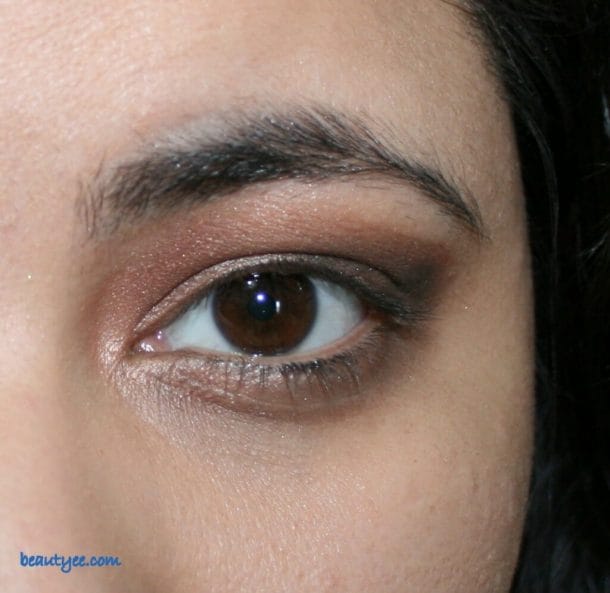 Step 6: I used this bronzey shade and applied it on the inner 1/3rd of the eye.

Step 7: Also applied on the lower lash-line.

Step 8: Used a golden-ish pearly e/s and applied it in the inner tear duct part of the eyes… It gives a fresh highlighted look to the eyes. (can use any light pearly shadow here)

step 9: applied eyeliner on the upper and lower lash-line… A winged liner would also look great 🙂

Step 10: Take a nice rose-colored blush and apply it on the apples of the cheeks pulling it upwards near the temple- like so: 
Step 11:  Use a nice rose-pink lipstick [mine got over :(] and you're finished 🙂

Extra : you can also highlight your face for the extra glow… take an off-white pearl e/s and with your finger/small brush apply  (blend) it on the higher part of the  cheeks, down the bridge of the nose and on the cupid's bow (upper lip)  … this will make the face glow in flash photography 🙂
Hope I helped 😀
Part 2 coming up 😉
P.S – I'm looking all puffy coz of Airline induced water retention. will be back to my old self in a week 😉
Also, All brushes are purchased from Sigma and you can get them here.