Hey gals, hope you all are having a great week.  After Part 1 of the wedding series, I did  a part 2 based on this saree. Hope you all like it 🙂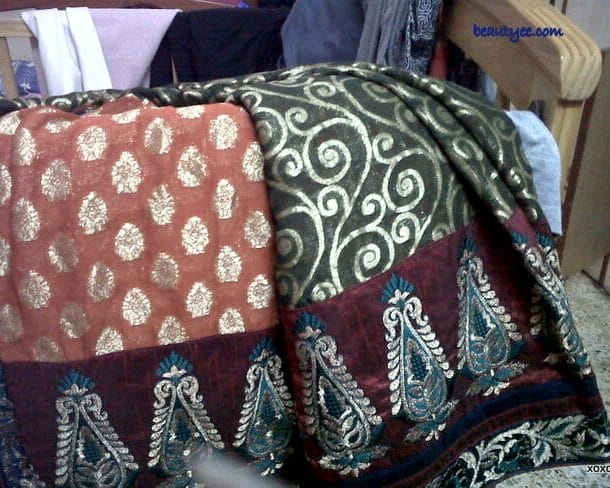 Step 1:  After priming, take a rusty brown eyeshadow and Apply it all over the lids as a sheer wash. [I'm using MAC sketch]

Step 2: Take a dark matte brown e/s and apply it on the outer- V and blend.
Step 3:  Take a dark black pencil eyeliner and  apply it on your upper and lower lash-lines. then Take a pencil brush and smudge it to give a soft smokey look. 🙂 like so :
you can even make a wing-like shape.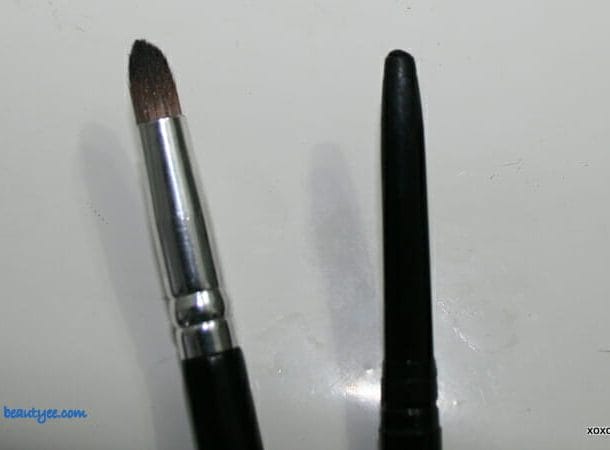 Step 4: Take a bright eyeshadow or pigment [I'm using green because of the color in the saree] and with the same pencil brush, apply it over the black liner.
Step 5: If you wish you can apply a liquid liner on top. But I'd suggest, just apply tons of mascara and you're good to go 🙂
Step 6 : Apply a nice blush, bronzer, highlight and lippie on the rest of your face 🙂

[no comments on the above pic- I hated it! LOL]
Do let me know how you would wear your look with this saree 🙂
Catch ya soon 😀
BTW-All brushes are purchased from Sigma and you can get them here.
Update: A cute reader just made me realize that this look is very similar to Kareena Kapoor's look in the movie Kurbaan. thanks Gia 😀