Hello Ladies!!! how's the weekend going on? anyone going clubbing? My weekend was  a bit resty and lazy with Hubs sleeping and me with my Kindle. I'm on my 5th book on Kindle and it is my new BF.. actually!!  I love it! will write a detailed review on it soon!
This is BTW my most delayed review ever!!! you remember my Mattify powder review? I had told you back then that I received 4 pigment eyeshadows along with it.
First of, Let me tell you about these shadows: most of the pressed shadows that we normally get are not so pigmented or rely heavily on the eyeshadow base to stick to the eye so as to not crease or stay on for a fairly long time.  The makers at Mattify! have modified this and made shadow pigments which are smooth, long lasting and also multipurpose.
The site says: Mattify! Long Lasting Eye Shadows all contain the same Kaolin Clay mixture as Mattify! Original Powder – giving them a superb oil absorbing baseand staying power.
I received the following ones:
1) Iced Apricot:  An opaque peachy shimmer with flecks of silver.
2) Midnight train: A sultry deep blue with silvery flecks and metallic shine.
3) Twilight: A high pigmented midnight black with subtle hints of sparkling blue (looks kinda green in piccys).
4) Amethyst Moon: A shimmering vibrant purple, with silver highlights.
Price: $4.99
Availability: Through their website.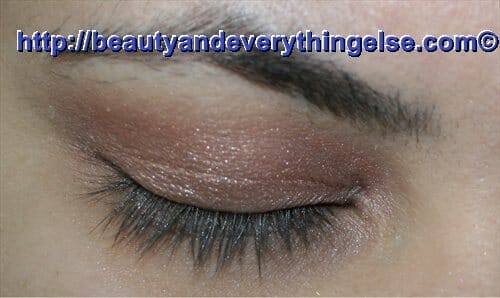 My experience with the eye shadows: I usually don't use much shimmer or glitter in my make up unless there is an appropriate occasions. so when I got these I was a bit apprehensive- but on application I found that they are very easy to apply- really smooth ground so does not hurt or prick like glitter. I used them wet and dry and they gave very good results..And thats why I got 2 light and 2 dark shades so I can experiment better.  Let me sum it up:
Pros:
– The eyeshadows are multi purpose: you can use them wet , dry, as nail paints, as lip glosses, the dark ones can be used as eyeliners etc.
– The shipping is very quick.
– Staying power is 4-5 hours.
– They come is sifter jars so you can use only as much as you want.
– Easy to blend.
– Interesting color selection.. Its a bit different than the usual colors.
– Very little fall-out!
– excellent pigmentation.. can be applies as sheer and build to be quite opaque.
Cons:
– you definitely need a primer underneath – especially if you have super-oily lids like me.
– Availability only through the website.
– You really need to be careful while handling them as they are pigments and need more precision in application…
[When applied wet]
Overall Verdict:  I recommend these shadows to ladies who really want quality as well as an interesting color palette. But I can definitely say that you need to be good with shadows before you can try pigments 🙂
But do check out more from their collection here http://www.mattifycosmetics.com/.
Hope you liked this review and do let me know if you want me to do certain looks with this set. I'm going to show you how to apply these as a liner and nail polish in my next post!!
till then, toodles!!!
[P.S. PR Sample… honest review!]