Hello cuties…. so how was ur valentine's??? Well, I do agree with some ppl that celebrating Love 1 day of the year is blahhh…. but then Its just like birthdays- u just need a reason to celebrate right???
hehehe
We actually started our celebrations on friday itself with yummy steamed lobsters and grilled fish and some TP. On saturday we went to see Black Swan finally.. OMG dimaag ko shot hain bilkul.. I seriously dont understand why it was nominated for the oscars 🙁 I mean if she has to experience everything herself for a role , doesnt it make her a bad actor??? But I liked Mila Kunis in the movie- she was grt…. talking abt Mila- I heard she did a 7k$ worth of a facial! WTF- I can shop an entire year with that amount.. hehehehe
Well, back to the topic. I had the most awesome weekend and the V day thanks to my Darling hubby and so dedicating this post entirely to him.
We went to Forever 21 coz there was some waiting before my haircut and I got these things:
1) An interesting police-style tee:

I loved the shoulder detailing – didnt have anything like this before. And I got it for 12-15$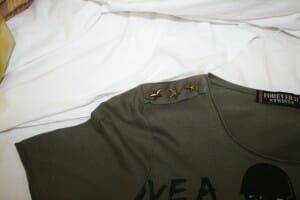 2) A set of silver bangles and a cute bow-shaped hair clip:
I know they are like passe WRT Indian fashion but chunky gold and silver bangles/stacked bracelets are a rage here and gals wear them with tees, tops, tanks and even with blazers….  trust me  they look so grt 🙂
the bangles came for 5$ and the clip for 4$
3) A cinch belt:
Ive been eyeing this for a long time and  Im in a phase where Im experimenting with belts a lot so this was an essential addition.. Also I got it cheap – for like 7-8$  so I picked it quickly.. hehehe
4) Aloe vera face masks:
My skin is not behaving these days so I was searching LUSH to get their wonderful mud masks but I saw these and I just had to get them :). They are pretty cheap for 2$ each.
1 for me and 1 for my hubby hehehehe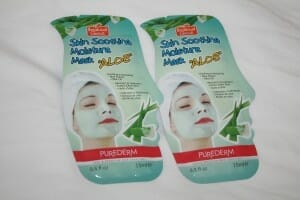 so until I find LUSH here Im getting these heheh
AND HERE ARE MY GIFTS 😀
And my haircut. M more excited coz I was cutting my hair after 6 months 🙂
And Finally EOTD:  I had done a black-brown smoky-eye look and thankfully it was a success. hehehh I mean I didnt look like a panda even after coming back. hahah
I was wearing a printed dress and strappy heels but somehow didnt click the entire profile so maybe next time 😉
Hope you guys liked my little haul-post and hope u all had a grt weekend and V-day. Do comment if you liked the post…  till then- ADIOS!!!
Love,
Bee