So subconsciously I like this color. I've had it's likes previously in Revlon Carnation(HERE) and MAC's Viva glam Nicki (HERE)! I'm on a Violet/mauve lips kick these days. Just like I was on a bronze eye kick in summer. Also these days my state of mind is absolutely bonkers. I'm desperately looking for a purple lip liner for some reason (MAC has one but I don't want to spend that much)
NARS Never Say Never Velvet Matte Lip Pencil is a subdued hot pink with the barest hints of lilac peeking through. Call it Rosy mauve.  I honestly just picked it up looking at the shade of the stub. Also, I got a whopping 40% off at some brands at The Makeup Show so hauled NARS.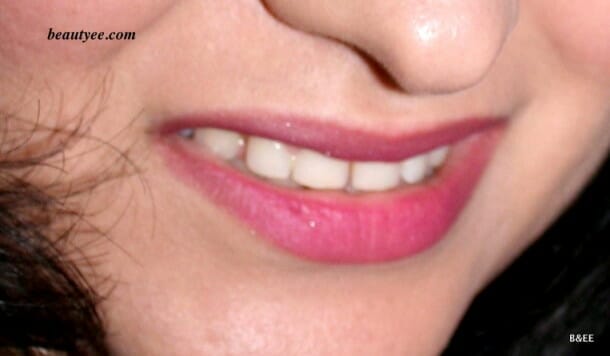 It costs $24 for a teeny chubby crayon. I thought it will disappoint me like the Revlon ones. But surprisingly for the last one month, this is the only lippie that I reach for. I really like how subtle & classy it looks. These days I don't get to dress up like usual & mostly it's just eyeliner & this lippie. but I like how it makes me look put together. They tend to dry up the lips a bit but not so much. I carry a lip balm all the time so I don't mind.
The wear time isn't much but then NARS didn't even say it was long lasting. I'd give it 3hrs before it's all gone. more so if you eat or drink. but this stays easily in my jeans' pockets so I don't mind re-applying. Also, this has to be sharpened so wastage of product!   I guess I should use this for special occasions only ;).
And this is my 5min face : moisturizer,concealer, MAC MSF powder, some random shadow in the crease, eyeliner,lippie – DONE! (And the forced smile too)
What is your fav lippie shade this season? And please don't say Oxblood. I'm over vampy lips already! so many gradient vampy lips around. Borrrring!!!!