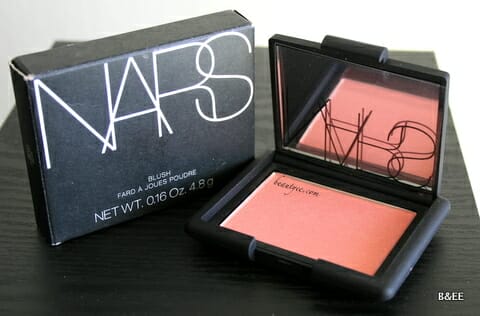 I bought this blush in early November and ever since I have been reaching for it whenever I go out. Also the fact that every time I instagrammed a pic wearing it, I got asked about the blush I was wearing. Not to mention, I always get compliments wearing this :d   I've nicknamed it my SUNSHINE product *insert happy opera music*
NARS describes it as a flirty, sheer peach.
My take on "Deep throat" : I was actually drooling over the iconic "O" but for some reason, it didn't suit me at all. too stark, too shimmery, my pores looked like craters— ughhhh. The MUA then applied this & my friend loved it on me. We giggled so much on the name and I'm sure she is going to giggle when she reads this. I am really big on blushes being seen as a flush rather than as some color on the cheeks so this was an obvious choice. I am yellow toned so this looked superbly natural on me. It is also amongst the less pigmented blushes in their collection, so no fallouts and no blobs on cheeks. The staying power is great as well. The packaging is rubbery & gets dirty but honestly, I don't care.
 I absolutely love the warmth it gives my face and makes me look softer even in my bad skin days.  It is worth all the hype it has And this would be one product I'd gladly repurchase. This keeps me going back to NARS.
Verdict : If you're a beauty enthusiast worth your salt, get at least one of the iconic NARS blushes. you'll not regret it.
Bee
Want to keep updated? Follow VIA;

Bloglovin'