Happy weekend girlies….  What did you all do this weekend??? I was just rummaging my closet and found this pretty black dress which I donno why I ignored for so many days….. I'm dying to wear it now.. hehehe   I'm searching if there are any events for Octoberfest anywhere here- Its been a while we went someplace out (visit to Costco or wholeFoods don't count– hmpphhh)I was actually ranting  everywhere mentioning  that all my lip glosses were either getting over or expiring *sob sob* and right now I have only two: this one and a nude Smashbox one….
NYX signature lip gloss:
– Combines high impact colors with lacquer to create unparalleled shine
– Contains mineral and lanolin oils to hydrate and condition lips
– Is available in a dazzling array of shades
– Makes the most of any smile
Directions
– Apply directly to the lips. Can be worn alone, with lip liner or over any NYX lipstick.
NYX Mega Shine Lip Gloss Ingredients
Polybutene, Sorbitan, Sesquioleate, Mineral Oil, Perfume, Ethylhexyl Methoxycinnamate & Butylparaben. May contain: Tocopheryl Acetate, Dimethicone, Microcrystalline wax, Caprylic/Capric Triglyceride, Butylene/Ethylene/Styrene Copolymer, Lanolin Oil, Vitis Vinifera (Grape) Seed Oil, Mica, Silica Dimethyl Silylate, Isopropyl Palmitate, Stearalkonium Hectorite, Propylene Carbonate, BHT, CI 77891, CI 19140, CI 77491, CI 15850, CI 77492, CI 77499, CI 77007, CI 12085, CI 45410, CI 15880, CI 45170, CI 47000 & CI 26100.
My experience with NYX Mega Shine Lip Gloss La La:
I picked this up in Vegas in like 5 mins because I got so excited seeing a NYX counter – they are so freaking difficult to track- even ULTA keeps all NYx leftovers 🙁 .I wanted to try something from NYX (I ended up buying 5-6 products ;))  they really are great as a brand and definitely on-level with some high end brands.
WIth most of glosses I felt that they have a plasticky-mediciney smell – which is nauseating… This baby has a mild bubble gummy smell which goes off in a while so I found it to be very playful.  In the tube it looks more of a watermelony-pinkish-peachy-color. But when you apply it its a very wearable pink. Just enough to give a pop of color without being loud.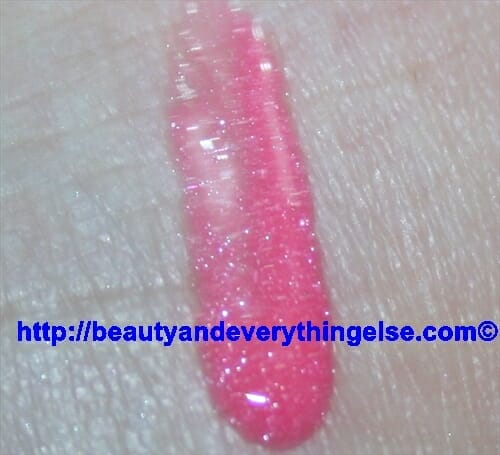 Pros:
– Great value – I got this is in approx $6
– Not sticky (Like- ur hair wont stick to it and even if you press ur lips together it wont stick)
– A sheer wash of color but definitely very beautiful.
–  Available in more than 30 colors.
– NYX Mega Shine Lip Gloss comes with a slanted doe-foot wand applicator, which I prefer over brush applicators.
– Cruelty-free & Hypoallergenic
– Fruity smell
– Feels very light on the lips
– Staying power is good… 2-3 hrs without meals.
– Cute packaging and the cap has bow shaped embossing.

Cons:
– Tracking down Nyx products is very difficult. (Ebay has lots of Nyx stuff but once I received an expired product so now I'm a bit scared).
Will I repurchase?
Yuppy-doo… maybe in more colors..
Final Verdict: 9/10
If you're looking for a shiny lip gloss that isn't sticky or slippery and you don't mind a mild candy scent, NYX Mega Shine Lip Gloss is a great choice!
What's your favorite lip gloss you own?
[BTW- did you guys enter my giveaway yet???]