Heyy my lovelies….   as some of you may know my 2nd lappy is also not working for some reason :(( My dear  friend Rati calls it a bad tech karma!! seriously, exactly at the time when I list down so many products to review and so many make-up ideas, the lappys royally screwed me!!!  hope it gets all better soon  😳 😳
So just to cheer up a bit and find out about more lappys and power options I visited a few malls and also INGLOT… following is a semi- formal/okayish casual look from the day 🙂 hope you all like it.
Since it was a bit cold in the morning and I knew I was going to be in high AC all day, I decided to  add a plum sweater with my plaid shirt and  gray trousers.
I thought the reddish pink from the shirt complemented the plum from the sweater well and the gray in the trouser kinda muted the whole look- toning it down a bit… Do you also think so?
For accessories I put on small silver hoop earrings which complemented well with:
Makeup wise: I had applied a pretty plum smoky eye but by the end of the day it was pretty ruined so I erased it and applied this brown and bronze look with a blue liner.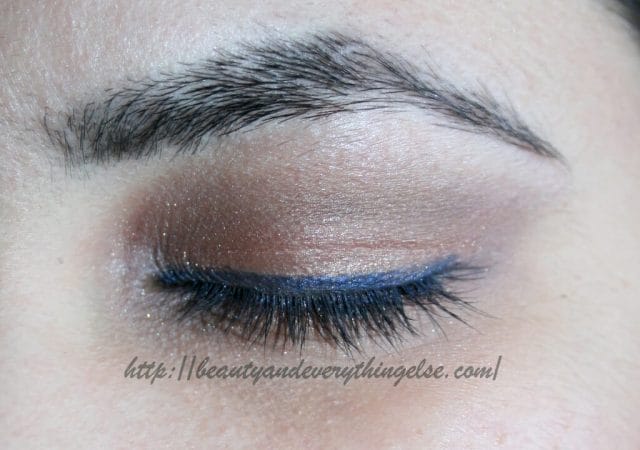 My gel liner got over so I was planning to get either from Inglot or MAC.   Finally Inglot won for 2 reasons.. I had'nt got anything from Inglot yet and the products really impressed me a lot :)So I got a black gel liner and a lovely eyeshadow pan… reviews coming soonest 😉
Sooooo  I follow a few make-up/style gurus sincerely and I read that Koren Zander was gonna visit  Aventura mall here…. after hearing that do you think I'd stop myself from meeting him????  I spent an amazing time with him and with less people around could interact very well…  I just love that guy 🙂
hope you liked my oh-so-normal outfit…   and please pray for me that my laptop doesn't give me any more trouble… Catch you all soon 😀
Plum sweater: Old Navy
Plaid shirt: Target
Gray trousers: Lee Riders
Watch: Gifted
Cuff:Random beach shack

Eyeshadows from the 120 pallete
blue liner: Maybelline Eyestudio Lasting Drama Gel Eyeliner Sapphire
Revlon Photoready mousse foundation.
Lipstick: MAC VIVA Glam 1.  (Its a deep red but I swear I donno why its lookin so Orange))
P.S this post also reminds me that I badly need to get a haircut… 🙁