I can't believe it's already August. Seems like the days go slow but the months are running by. But it makes me happy to think that summer will be over soon and Fall will come by. Summers in Florida are real messy and This  season, I have been sunburned 3 times already, my back was severely burnt twice and my knees are permanently brown now..
I really hate piling on products because I have a severely acne-prone skin which has its own mind. its dry on some spots and oily on some so I don't even know what to do with it most times. grrrr… and when Effortless products come in my radar I am a happy camper 😀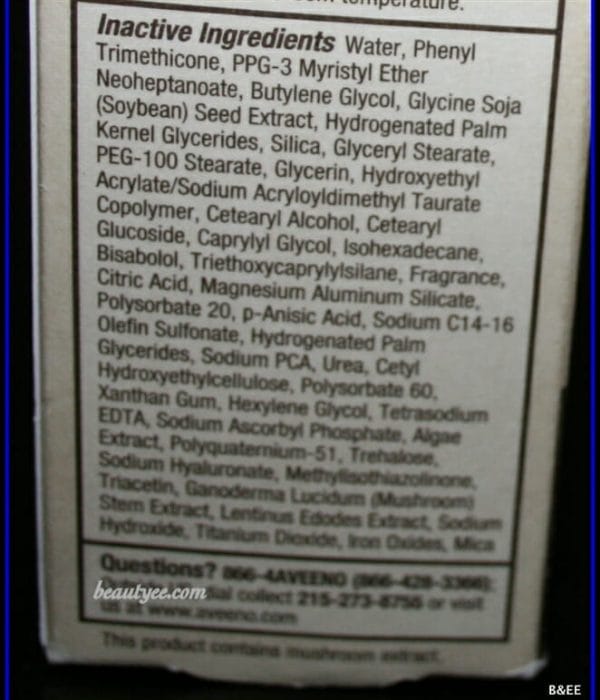 Aveeno says: 
Formulated with Active Naturals®Natural Shiitake Complex and Vitamin C, this daily moisturizer hydrates and nourishes your skin to help visibly reduce the look of fine lines and skin discolorations. Natural, light-reflecting minerals and lightweight coverage blend away imperfections for even tone and smooth texture. Plus, SPF 30 sun protection helps to protect against damaging UVA and UVB rays.
Instantly Helps Even Tone and Texture with Natural-Looking Coverage
Reveals Youthful, Healthy Looking Skin
Active Naturals(R), Natural Shitake Complex
Oil-free
Non-comedogenic
Cost :around $19.99 (you can always find a good sale at CVS, Walgreens, Amazon or ULTA) for a 1.7 oz bottle.
My experience with the product:  If you know me you know that I always dilute my foundation. unless I have a very exquisite event, I always always mix my foundation with a moisturizer or water before applying. So far my fav has been the Laura Mercier one (reviewed HERE)  but I use it sparingly coz its so god-damn expensive. Agree???
I was really happy when I got this..  I knew we were going to be great!!!
– It blends on the face beautifully. With brushes and with fingers.
– It gives a light to medium finish and is buildable.
– If you don't have really dark circles, can be used as a concealer too.
– Absolutely lightweight.  you won't feel you've applied anything.
– Gives a lovely illuminating glow… not shine. I wear it in 90 degree F and I have an acne prone oily skin.
– It might get a li'l bit shiny by the end of the day but nothing a few dabs of blotting sheet won't take care of.
–  Pump dispenser so hygienic 🙂  but no lock so not travel friendly.
– I am definitely buying this again and again.  😀
– Definitely recommended.