Heyy my beauties… first of all Happy weekend and Happy Valentine's Day in Advance 😀  hope you all have planned grt things for the day. Too bad its coming on a monday :((  Anyway, when I landed here in US, I was introduced to the Aveeno product family by my hubby dear. Till then I had no idea and just like all the skin care jars and bottles I thought them to be looking nice sitting on almost all the possible shelves in drugstores. Later when Fall started making the skin dry and messy I picked up the aveeno body lotion and trust me guys: I was hooked!!! I was so in love with the product. I'm on the second bottle right now . Also the winters were making my face all dry and crumbly with a lot of redness. I was panicky coz not only it looked wierd, it stung too 🙁
At that time I was using my Neutrogena face moisturizer which was good in the summers but I needed a little bit more- a moisturizer which is deep enough to moisturize in winters but light enough as to not break me out. got the point??? 🙂
So while I was waiting in the billing line once I happened to come across this product: AVEENO POSITIVELY RADIANT DAILY MOISTURIZER WITH SPF15. My heart wanted to get it right then but I was more cautious as in the past ive picked up some real blahhh stuff impulsively heheheh.
So, I came home I did a little bit of R-n-D and considering the Aveeno reputation I just picked it up. I picked up a  twin pack for about 14$. The Aveeno range is pretty famous here and every year wins a lot of beauty awards.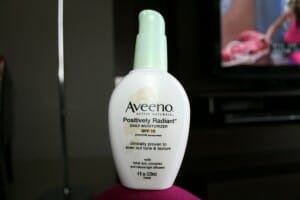 The Site claims: With clinically proven Total Soy Complex and natural light diffusers, this daily moisturizer evens out skin tone and texture and immediately reflects light to bring out skin's natural radiance. Its fast-absorbing formula leaves skin soft and smooth and is clinically proven to improve skin tone and texture in as little as 4 weeks. Gentle enough for sensitive skin and daily use, this moisturizer is also oil-free, hypoallergenic, noncomedogenic, and contains SPF 15 UVA/UVB sunscreen.
My take on the product: I have been using this moisturizer for over 2 weeks now and I am very happy with it. It took care of all the winter problems, the redness was gone and my face didnt hurt when I smiled(which happens to me in winters. hehee) Also since I am a bit regular with my CTM routine these days I am not breaking out as well. And on top of that it has SPF 15 UVA/UVB blockage. Awesome right?
This is what it looks like:
And after lightly blending into my skin it looks like: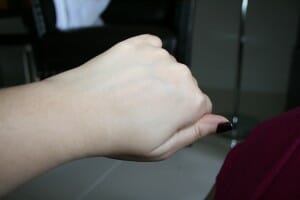 Also: it gives a great glow when I mix it with my foundations. I had used a particular cream before and it used to sting when mixed with foundations. This one absolutely does not sting and blends beautifully making a great tinted moisturizer.
PROS:
– Moisturizes well but is oil free
– Hypoallergenic and non-comedogenic (means it does not clog pores. yayyy for oily-combo gals like me.)
– Gets absorbed quickly so you dont have to rub a lot.
– Leaves skin smooth and takes care of skin irritations.
CONS:
– Really cant think of any but I didnt find any Skin texture difference as the product claims. but no complaints as it is keeping my skin smooth and no redness.
WILL I RECOMMEND THIS TO ANYONE? : Definitely. everyone from Dry to oily skin people can use this with no issues. I am  a sensitive skinned oily-combo myself so even I have to think a lot before getting a skincare prod. thank God this worked 🙂
So Sweeties I hope you liked the review and Do leave ur feedback and comments. It will be highly appreciated. Have a great weekend ahead.
Love,
Bee.