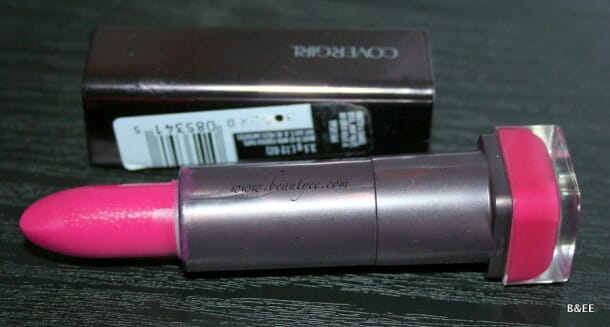 Hey pretty ladies…. how is the week going on? it's friday 2moro & I'm already in a dancy mood (btw- I was supposed to be doing something important today, but instead, writing this! )
So, this summer has me experimenting a lot with vibrant, bright lip colors. I've got fuschias, pinks, reds, RiRiWoo & what not…. on one balmy trip to Publix I noticed the CoverGirl lipsticks range and even though I normally stay away from the brand…. this particular shade caught my eye & I decided to leap for it!
CoverGirl says: right, gorgeous color that can transform your day and your lips. Enriched with a silk moisturizing complex, our formula helps sustain moisture levels and helps create soft, smooth, beautiful lips in just 7 days.
Cost : $6-8 in all drugstores & online.
My Experience with the lipstick : I first swatched it on my hand & continued shopping & went home totally forgetting about it.  While sleeping I looked at my hand & saw  a lovely fuschia stain. [this was after washing my hands umpteen times & after 6hrs] On my 2nd visit I ran off to that aisle & promptly grabbed it. I just knew I wanted it! Spellbound is a dark, blueish-based fuchsia color. Very pretty & vibrant.  The 1st time I applied it, I loved the way it glided on my lips. I wore it in 90+ degrees Arizona dry heat -constantly sipping liquids – And it did not vanish on me. Also, it fades to a perfect uniform stain which stays & stays on you. no re-applying *yayy*. I did notice some people mention that it has a waxy smell but I didn't notice it. Also the fact that even the makeup wipes could not remove it left a bit of a doubt in my mind!  The packaging is cute too considering , it's a drugstore brand.
Summing it up:
Yayys:
– Very moisturizing.
– Insanely intense pigmentation.
–  Stays for a long time even with eating & drinking.
– Comes in a ton of shades.
– Lips don't feel dry even after wiping it off.
– Decent price.
– It accentuates even the simplest outfit & makeup. It really dresses up ur face.
Nays :
– I'm a bit doubtful about the long staying part.
–  I'm also doubtful about coverGirl's claims to "wear for 6 days"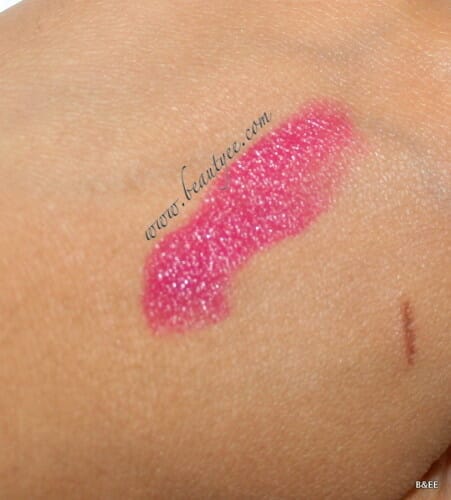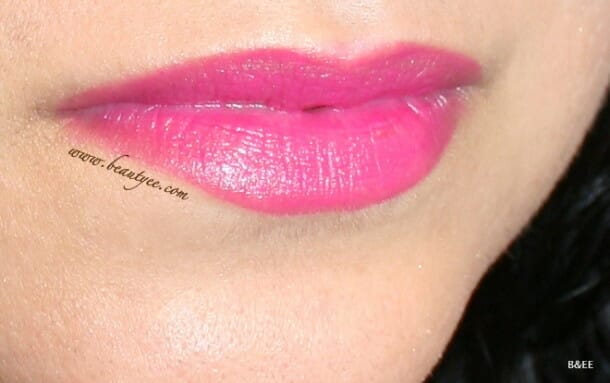 Verdict : I am honestly liking it so much that I'll purchase a few more. I like it more than some of the high end lipsticks. this has really been my surprisingly good purchase.
P.S- This is a very very close dupe of MAC's Girl About town lipstick which BTW I was lusting after- talk about accidental gains!