I have never liked gel eyeliners. I tried Bobbi Brown, Inglot, MAC, maybelline blue one. I love my liquid liners and they are the only ones that stay. but the gel liners look so inviting in their tiny pots. And I wanted to get something in deep brown because black sometimes looks harsh on  me. And then my trip to walgreens happened. And the rest is on this page (tee hee)
L'oreal says :  L'Oreal Infallible Lacquer Liner 24H for eye design that is simply sophisticated. 24 hours of flawless, fade-free color with a unique lacquered finish. Mistake-proof application plus the ability to customize your line with a smooth-gliding brush. Ophthalmologist tested. Suitable for sensitive eyes and contact lens wearers.
Cost: $10
Available in : Navy, blackest black, Bronze and Dark Slate.
My experience with the liner: Packaging wise: it's cute! Comes in a glass pot having plastic screw top and with small flat liner brush. The brush is also really usable & the quality is fine.    The formula is really great. Also, it has an intensely dense consistency – really thick. It applies glossy and opaque and after a while becomes matte. This color – Espresso- is so dense brown, it almost looks black. It surely is absolutely fade proof and does not budge in water ,
BUT- on my super oily lids (which transfer every liner), it stays for about 5-6hrs after which it starts to dissolve.

If I apply it very thin & close to the lashes, it stays longer. Also it stays a lot longer on the lower lashline & waterline – almost till the end of the day. Did not once burn my eyes or irritate them when applied on the waterline.  It gets off easily with a makeup remover.
The only CON I'd say is that I have to apply it in multiple strokes to get an even line.  It kinda applies jittery the 1st time.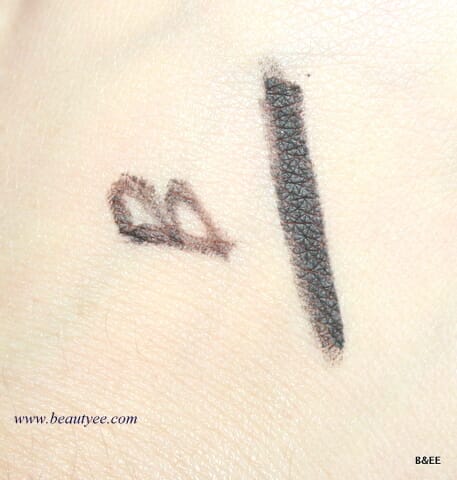 Verdict : It's a perfect dupe for the Bobbi Brown one and gets full points even from oily lids.  Absolutely recommended!
No pics for the brush coz I lost it somewhere 🙁