Hey my cuties, how was the week???  Its friday again and I cant wait for the weekend to start… I went a little slow this week with the blogging because I had another feather in my cap… lol- just kidding- I actually had a big burn on my upper hand :((  and it was all swollen and burning. now it has a big thick brown line 🙁
So, this is a very long awaited review. I was searching for a good loose setting powder and searched everything and every site possible..   ELF had a huge shipping cost and MUFE was out of budget.  Then one day I happened to check out Mattify on one of the reviews and I thought I had to get it!!   I got in touch with Colleen from Mattify and She was kind enough to send me a sample of the famous Mattify Ultra loose powder  and 4 eyeshadows with a lovely handwritten note..  It was a very sweet gesture and showed that Mattify! indeed takes personal interest in all its users…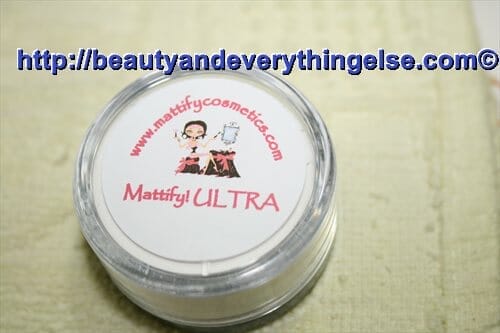 It is a huge quantity for a sample size because a little goes a long way here.
As the website says:
Why mess around with oil-blotting sheets and touch ups with cakey colored powders?  Let your base cosmetics do the work for you! Whether you need a little bit of oil control or a lot, Mattify! Cosmetics provide adjustable oil absorption, depending on how you apply them.
The entire line of Mattify! Transparent Powder can be worn four different ways:
*Alone to minimize redness, pores & acne, while also absorbing oil
*Before foundation as primer to prevent acne & protect pores from makeup
*After foundation to create an airbrushed poreless finish and help makeup last
*BEFORE  and AFTER foundation for maximum oil absorption and skin clarity
Mattify! Powder can even be used as an eyeshadow primer to prevent creasing and allow for long
Also, Me being an oily skinned girl, I was worried that the powder might accentuate my open pores but when I saw the site I was relieved.
They are One of the only mineral powders on the market to be free of: Mica,Talc & Bismuth
The first time when I tried this I used it like no tomorrow and obviously I looked like a ghost but the next day I tried again- and this time I used a light hand. I applied it after my tinted moisturizer and then I noticed the difference. It gave a soft matte look and not cakey at all as I feared.  Also I used it on my eyes as a primer and applied an olive color eye pencil liner. The liner stayed put for more than 5 hours in the sun and that was made me happiest 😉
see the swatch? it gives a subtle glow  without being on the top.   The 30 gram sifter jar costs about $12.99  and they ship worldwide for minimal shipping. They also have the loose powder for dry and normal skin types..
PROS:
– smooth texture
– spreads easily
– excellent primer for eyes and face
– can be used before and after foundation
– If applied strategically gives an airbrushed effect
– easily available online
– shipped worldwide
– a little amount is used so will last long
CONS:
– Not tinted so you need a base underneath
– one can easily go overboard with this
– If not applied lightly can accentuate pores
Overall I'm very happy with the ULTRA loose powder and I will repurchase it again!!!
[P.S PR sample, Honest review]
What am I doing now???  testing MAC TECHNAKOHL liner whose review will be up soon 😉  stay tuned!!!