My first review of the year for  this site is for QUEEN HELENE MINT JULEP MASQUE. I swear to God this has become my new HG product.. my skin is combo-oily and majorly acne prone so this has been very helpful for me.
As the product says: this Helps dry up acne pimples, rinse away blackheads and shrink enlarged pores. I have been using it quite frequently and I must say my skin feels a lot better. As like any mask you need to apply it on a clean face and neck and leave it for 15 mins or until it dries up (sometimes I've even left it overnight.) Its very gentle on the skin, does not  stretch out the skin while drying. After Washing off my face feels really clean and supple. I'm very lazy and not so consistent with my skin care routine but I'm sure if I'm regular enough it will clear out whatever blemishes or bumps I have. The mask is deep green in color and is a bit minty-smelling. but the smell does not irritate you.   comes for about $8-10 for about 225gms.  but it'll last you for a pretty long time. I use it on my hubby too.
Here's a swatch :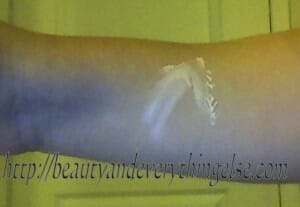 And now on my face – LOL:
My verdict:
Definitely a must buy. I got this because beauty gurus all over You-tube raved over it. This seriously works (OMG- they shud hire me now…lolzz) I would definitely recommend this to everyone having oily acne prone skin and black heads.
PROS:
-> Gives a very calming effect when applied.
-> The skin tends to feel very fresh and breathable after washing off.
-> does not burn or irritate the skin.
-> easily available in drugstores and online.
-> I'm buying my next one very soon 🙂
CONS:
-> Sometimes gets a little stuck-up so u need to apply pressure the tube  but other than that i have yet to find a negative point.
Overall I would give it 4 stars out of 5.
Hope u gals liked my article.. Will be back with a lot more. thanks again 🙂
Do give ur honest feedback and suggestions.  brickbats welcome too 😉
Stay blessed,
BeeNii.
PS: With my every article i will be giving one Tip-of-the-day
So todays TOTD:   use ur dark eyeshadows as liners. It will be interesting to have colorful liners at times when u dont dress-up ur eyes..