Hey gals and guys… how's the week going on? Fall's officially arrived and I cant be more happy… Even though it doesn't make much of a difference in Miami but still- the air's getting a bit cooler and evenings are more dusky 😉  also- right now its raining cats and dogs as I look out my window!!!
So, the review as the name says is for Sigma cleansing tool… Sigma is very famous for its make up brushes and the newly introduced eye make-up palettes but I didn't really know it was into skin care as well. So when I saw this polishing tool in one of their newsletters I was really impressed – more so because the other tools in the market such as DDF, olay and the ever famous Clarisonic are much more expensive than this baby… so COuldnt really wait to try this out!!
As a part of the Affiliate program I got this last week and I tried it out twice.  I have an oily- acne prone skin and hubby also has very sensitive skin so we generally are very skeptical about skin care products and honestly (being a beauty blogger) I feel if you skin is flawed, no amount of makeup will do justice. So I always try and get good things for skincare and invest in moisturizers and face packs.
The
Sigma Cleansing & Polishing Tool
comes in a cute box with the main device and 3 brush heads – which is a great thing-  The soft, medium and firm- for different skin types. I'd suggest to use the soft one a few times so that the skin gets used to the scrubbing factor before graduating to the other stronger brushes.The rotating brush head has two speeds so all you have to do is glide it gently over your skin.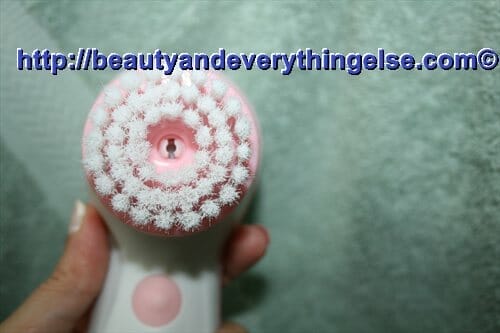 How to use
: Add a small amount of your favorite facial cleaner directly to the brush head prior to application. Use the medium or firm brush head once a week to exfoliate dead skin cells and expose a fresh healthy layer of skin. If you have sensitive skin, use the softest brush head at all times. Keep your entire exfoliation process under one minute.
My Experience with the Sigma Cleansing & Polishing Tool:
– Great packaging and has 3 interchangable brush heads for different skin types.
– Has 2 brush speeds.
– Is travel friendly.
– At just US$39.00 this tool is a much cheaper option.
– Works on 2 AA type batteries so Can be used in any part of the world.
– Because it works on batteries the sonic vibrations might work less.
– You need to remove your makeup completely before using this as we don't want a murky residue.
– Is NOT waterproof.. You cannot use this in the shower. this I found to be the biggest drawback as most of the time I like to scrub while having a bath.
– It does NOT use Sonic vibrations.
The Verdict:
While I absolutely LOVE my Clarisonic Pro I also do understand that not everyone would want to fork out hundred dollars So this is a great substitute for it (though clarisonic is a class apart I'm avoiding comparisons)  This is also great for travel and I would definitely recommend it majorly to college going gals and gals on a budget!If you order anything through Sigma
here
then you will receive a free gift if you spend $30!
Also, I have a giveaway of the
Sigma Cleansing & Polishing Tool
coming up in the next couple of days so please look out for that!
UPDATE: Some Individuals from Sigma read the review and they gave some cool info:  Sigma Makeup Official Fan Page Great! Thank you for sharing. We had a chance to read your review. Did you know you can use your Cleansing & Polishing Tool in the shower? It is water resistant not water proof which means it can be in water, just not completely submerged.
[Disclosure: The products in this article were provided by PR as a part of the affiliate program. All opinions are my own. For more information please refer to my Disclosure Policy]