Hey gals, how's it going????  so has it started raining where you live yet???  its still so hot here that I get a headache even by standing in the balcony :((  I am soooo waiting for fall to come- FALL is my most fav season of all… honestly!!!!
SO if you read my blog you might know I was searching for a good toner to calm my skin down here. I was going to make one using apple cider vinegar and tea tree oil and green tea. So this led me to the drugstore to get a nice small vial of tea tree oil…  I searched for a few and wasn't so happy so I asked a SA to show me some toners…  Neutrogena had badly burned me last time so I was sceptical in trying anything chemical based..  Then I saw the Dickinson's toner.
I saw witch hazel and for some reason I was very happy because witch hazel is supposed to calm the skin.
WIKI says: The bark and leaves are astringent; the extract, also referred to as witch hazel, is used medicinally. Extracts from its bark and leaves are used in aftershave lotions and lotions for treating bruises and insect bites. Witch-hazel helps to shrink and contract blood vessels back to normal size, hence its use as the active ingredient in many hemorrhoid medications. It is also a common treatment for postnatal tearing of the perineum. The seeds contain a quantity of oil and are edible. It is also used in treating acne.
I'm using this since about 3 weeks now and the liquid has reached half the bottle and I can rightly say that this completes my regimen…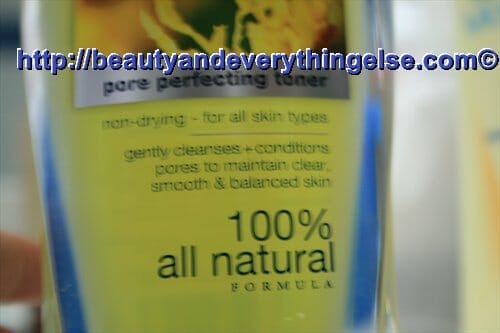 My skincare consists of:
– Philosophy's Purity cleanser.
– Dickinson's Witch hazel toner.
– Aveeno light moisturizer (Reviewed here)
I was seriously tired of being oily all the time and cold water splashes didn't really help. I was till the neck with frustration when I bought this and thankfully my decision was right.
I does not sting, does not dry me out and keeps me fresh and clean(not squeaky clean) and I can notice the difference in my skin when I'm regular with my TLC and on days that I get lazy and leave my skin bare.  IMO if you are regular with your TLC you don't need expensive skin care and multiple lotions- what say???
Sometimes when I'm fully made-up, even after cleansing my face twice I feel that my face isn't clean enough. Now I just take this on a cotton pad and wipe my face with it- this removes the remaining good too and I get the satisfactory clean feeling…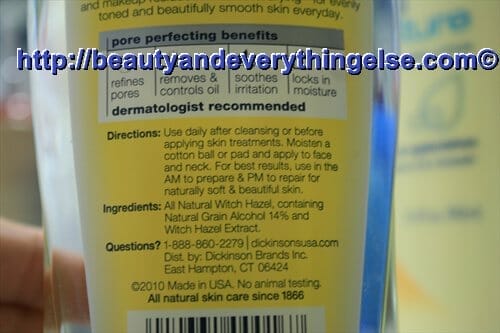 Now let me summarize this:
YAYYYS:
– For $4-5 its very cheap.
– does not sting.
– no redness.
– thoroughly cleans the face.
– removes all the oils from the  face – feels good in summers.
NAYS:
– Might be strong for  people with dry skin.
– contains 14% alcohol: some people might have a problem with that..
In all I recommend this to everyone having open pores, blemishes, an oily sheen on the face etc…