Ok… tell me. how does one forget to review her favourite lipstick? how??  For some weird reason I totally forgot about it.  I need to take an inventory check before I get anything new!! But then every girl needs a pink lippie  😉
This lippie holds a very special place in my heart. This was the first lippie I got from walmart when I came to US… that time I was so excited to see such a huge superstore.. and now- I don't even go there anymore- heheheh  how times change!
Revlon Carnation (025):

($8.99 for 0.13 oz.) is a medium-dark, blue-based pink with a soft, frosted finish and subtle fuchsia-magenta shimmer.
Packaging: The lipstick is packaged in a matte black case with a quilted pattern on the front and the Revlon logo/print embossed on the lipstick itself.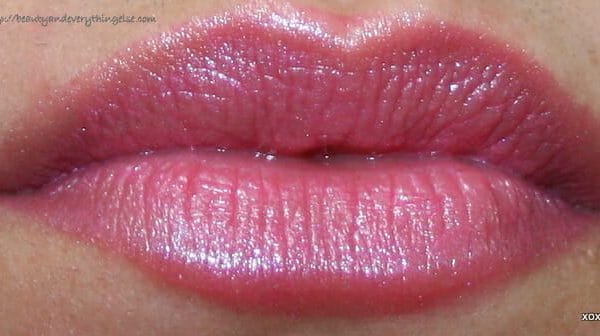 My Experience with the lippie: It is just the right pink for me. Awesome formula.
– It's quite  opaque in color,
– It's decently pigmented, creamy and
– it's absolutely lightweight.
– This range has excellent shades.
– It has a decent staying time.. like 2-3 hrs.
– These lippies do not have any smell/odour. thank God 🙂
– The consistency is really great and very buttery too.
– Not moisturizing but it's not too matte either.
– It looks a bit brighter in the tube but it applies quite light.
– I also use it as a blush sometimes 🙂
Verdict: I love this range and I'm surely getting more from this. maybe soft rose 🙂 I paid the full price that time but these days you might want to look for BOGO-50% offers in drugstores 🙂