I don't need to tell this but every woman worth her salt has at least one pink lipgloss in her kitty. I'm no exception. I've always had a pearly light pink lipgloss with me for as long as I remember. It might be the 1st lipgloss I ever had. I saw this  LE  collection from Revlon super lustrous range in my walgreens a few months back & realised I didn't get a pink lip gloss in ages. And so this came home with me- happily!
Revlon says : Lips stay shiny and kissable with Revlon Super Lustrous Lipgloss. This lustrous Revlon lipgloss combines intense color and moisture with light-reflecting spheres to create incredible shine. Formulated with the best natural moisturizers, the SPF 15 lipgloss conditions your lips as it provides superior hydration and protection. It helps keep lips soft, colorful and oh-so-glossy throughout the day.
Cost : $6-8 in all drugstores.
Shade I got : Pink whisper.
My experience with the gloss : Its my HG color. Also, I always trust revlon lip glosses.  They always have great formula. That's the reason I didn't think twice before getting it. I usually like hassle free products and this is one of them. It goes with every attire & every makeup – I don't have to worry about it matching with anything 🙂
My usual MO for lips is : lip liner &lip gloss or only lip gloss.  This makes my lips look naturally supple and fun. It has SPF 15 so double yayy.  It feels very moisturizing and supple on my lips. Although it's as tacky as a gloss should be, it's not overly goopy and does not stick to my hair. or doesn't make my lips stick to each other. also, does not form that horrible goopy ring around my lips. It lasts for about 2-3 hrs on me and I'm fine with re-applying it!
It is my natural n*de shade I think will flatter very fair to medium-olive skin tones. might look frosty silver on dark skin. also, while taking swatches the shade was not picking up- the picture just looks like a silver pearly blob for some reason! Also, I'm tired of doe foot applicators now!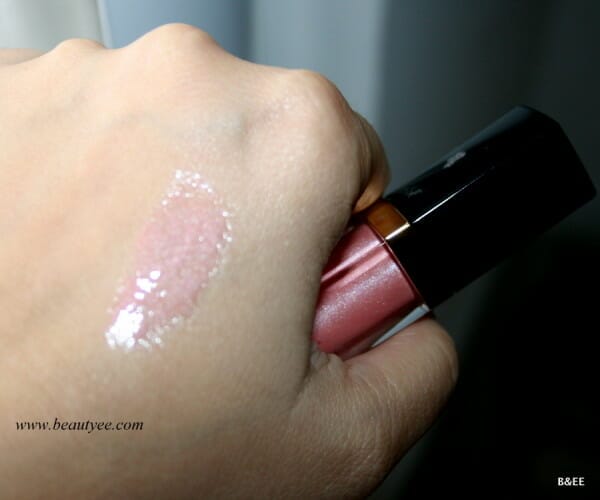 CONS :
– easily dupable. All the brands have this shade.
– Has SPF so I don't wear it at night. [that's just my rule]  but this shade would look wonderful at night!

Verdict : Do I have to say again? every girl should have this shade!